Student's family says thank you with trees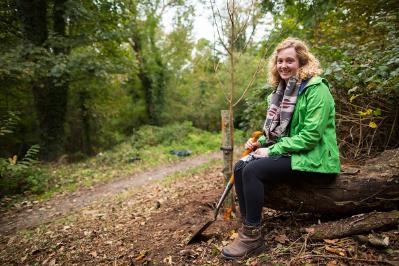 Graduate Lizzie Tyson plants the lime tree donated by her parents to Parc Natur Penglais to mark her happy years in the town as a student at Aberystwyth University.
The parents of an Aberystwyth University graduate have donated trees to a local nature reserve as a thank you for their daughter's excellent education.
Since graduating in Countryside Conservation from the Institute of Biological, Environmental and Rural Sciences (IBERS) in July 2016, Lizzie Tyson and her parents have been reflecting on her happy time at Aberystwyth, including her work at Parc Natur Penglais with the student Conservation Volunteers group.
Seeing her enthusiasm for the education and experiences gained at Aberystwyth, Lizzie's parents decided they would like to give something back to the University and town in a fitting way - by generously donating lime and wych elm tree saplings to be placed in Parc Natur Penglais, where Lizzie spent some of her most enjoyable times.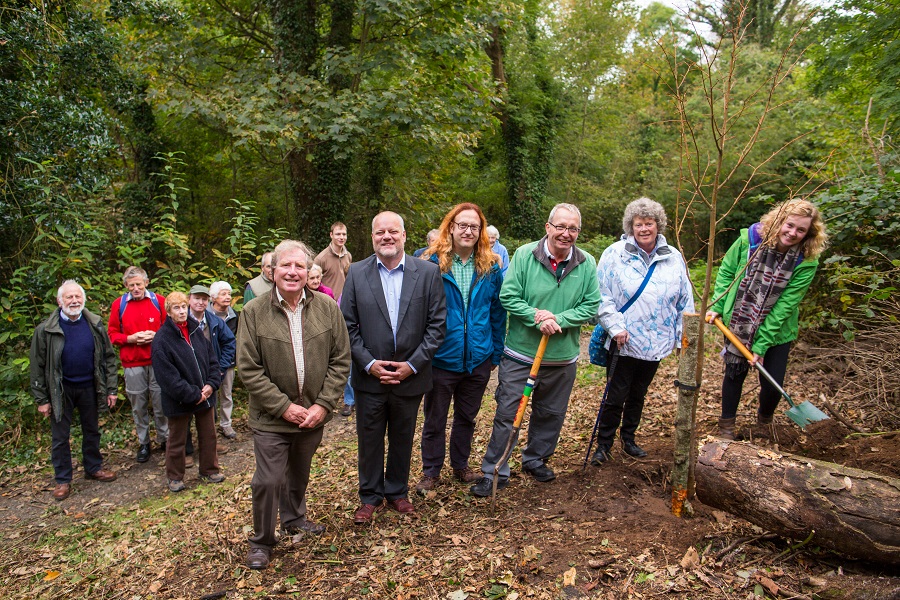 (L-R) Len Kersley of the Parc Natur Penglais Support Group who hosted the event, Jim Wallace representing Aberystwyth University, local Councillor Mark Strong who thanked Mr and Mrs Tyson for their gifts to the town, with Oliver, Sue and Lizzie Tyson completing planting of the tree.
Famed for its fine displays of wild bluebells in early spring and spanning 11 hectares, the park offers peaceful woodland walks and excellent views of the town. Once part of the Penglais Estate, the beautiful woodland of Parc Natur Penglais was donated to the town by Aberystwyth University.
The Parc, opened in 1991 and officially declared a Local Nature Reserve in 1995, is managed by Ceredigion County Council in partnership with the Parc Natur Penglais Support Group of local residents. It has received recognition as the only UNESCO Man and Biosphere Urban Reserve in Wales, while the Support Group won a Prince of Wales Award for their early work in establishing the Parc.
Jim Wallace, Director of Campus and Commercial Services said: "It is very pleasing when our students leave us feeling that their lives have changed for the better as a result of their time with us. Lizzie is a wonderful example of a hard working student that has used every opportunity Aberystwyth University has offered her and who has also looked to put something back into our community. The tree being planted are a poignant way of demonstrating Lizzie's commitment she made as a volunteer and I hope it will inspire other students to make the most of their time with us too."
Lizzie's parents Sue and Oliver Tyson, both teachers, and Lizzie returned to Aberystwyth on 24 October to plant the trees on 24th October accompanied by representatives from Parc Natur Penglais, Ceredigion County Council, and Aberystwyth University.