Backstage: Prints and drawing by John Vivian Roberts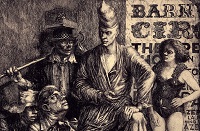 'Backstage, Bertram Mill Circus', etching, 1949
An exhibition of prints and drawings by painter and printmaker John Vivian Roberts (1923-2003) opens at Aberystwyth University School of Art Gallery today (Monday, 10 October).
Roberts was born in Tredegar, Gwent. He studied at Cardiff School of Art (1939-42), and attended the Royal College of Art (1947-51) where he studied printmaking, at first under Robert Austin (etching and engraving) and then Edwin la Dell (lithography).
It was whilst Roberts was at the Royal College of Art that he visited backstage at Bertram Mills Circus in Earl's Court in 1948. He could not have foreseen that the experience would give his work immediate purpose and direction, and that he would find a subject to engage him for the next five decades.
From pencil drawings made in a small hardback sketchbook, he developed characters and compositions that he would revisit time and again, fulfilling an enduring fascination with the costume and ritual of circus life.
But it was a very particular aspect of life in and around the Big Top that attracted; the ringmaster, lion tamer, elephants and camels, trapeze act or tightrope walker never appealed. Almost exclusively he was compelled to draw the male performers — the clowns, dwarfs and tumblers — not in the ring performing, but backstage in costume and makeup preparing for, or at rest after a show. He was sensitive to their isolation and the loneliness beneath a façade of gaiety; he called it the 'fact and fantasy' of circus life.
His works remain as a testament to a most perceptive artist, who in his paintings and prints demonstrated a genuine empathy with the circus folk he regarded as friends.
Roberts returned to Wales and went on to teach at Cardiff School of Art from 1951-60, before becoming Head of the Faculty of Art and Design at Liverpool Polytechnic (now John Moores University).
He was an active member of the Royal Society of Painters in Watercolour, the Royal Cambrian Academy, the Liverpool Academy of Arts and a Fellow of the Royal Society of Painter-Etchers and Engravers.
In early 2003, the School of Art at Aberystwyth University received a V&A/Re:source Purchase Grant to acquire twenty works by Roberts for its permanent collection. Others have since been acquired by gifts from the artist and the Arts Council of Wales. The School of Art Museum now holds the largest public collection of Roberts' works.
Much of Roberts' work was autobiographical and this exhibition contains portraits of those he loved, narrative works about unrequited love and melancholic, sometimes eerie, depictions of clowns and circus performers.
Backstage: Prints and drawing by John Vivian Roberts is on view at the School of Art Gallery, Buarth Mawr, Aberystwyth from 10 October – 18 November 2016. The Gallery is open Monday to Friday, 10:00 to 17:00. Admission is free.