Birds live longer with extra DNA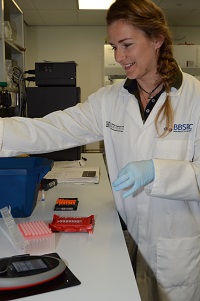 Ilze Skujina at work in the lab
An Aberystwyth PhD student has discovered that birds with additional DNA may live longer lives.
In research published in the journal 'Aging', IBERS PhD student Ilze Skujina screened hundreds of mitochondrial DNA sequences for the presence of duplications and demonstrated that they are found significantly more often in longer-lived bird species. http://www.aging-us.com/article/ggTZQvxjJXncACAsf/text
Ilze said "Understanding how ageing happens in different groups of species like birds may provide insights into ageing in humans."
The mechanics of flight utilises a large amount of energy and results in higher body temperatures but despite this, birds live longer than mammals of equal size.
Mitochondria are the 'batteries' of cells and generate chemical energy that every cell in the body can use. Mitochondria play an essential dual role in maintaining a constant body temperature and in generating energy, which both link to expected lifespan.
Dr Rob Mc Mahon, Ilze's PhD supervisor said "One theory of ageing is that the mitochondria accumulate DNA damage over time. Unlike mammals, some bird species have a duplicate copy of the part of the mitochondrial DNA that regulates its function.
It is not yet known if the presence of this duplication facilitates a longer lifespan or is a consequence of some other factor related to lifespan, but Ilze's PhD aims to investigate this further."
Recent work in mammalian ageing has demonstrated that mitochondrial copy number and function decline with age in many species including humans.
Ilze said "To investigate whether the presence of this duplication may play a similar role in longevity to mitochondrial copy number in mammals, we correlated body mass and longevity in 92 avian families and demonstrate a significant association between the presence of the duplicated material and birds with above the expected lifespan.
Further research is required but these findings provide an intriguing hint of how mitochondrial sequences may be related to an extended lifespan."
This research was partly funded by the award of the Dr Owen Price PhD studentship to Ilze, Fujitsu & HPC Wales to Dr. Vasileios Panagiotis Lenis (who assisted with the computational analysis) and BBSRC Institute Discretionary Funding to Drs. Rob McMahon and Matt Hegarty (Ilze's supervisors).