A Warm Welsh Welcome For New Students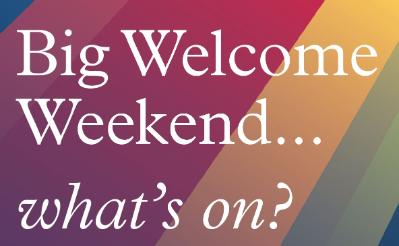 Aberystwyth University will welcome students this year by hosting a 'Big Welcome Weekend' with the main activities based around the Arts Centre during 23-25 ​​September 2016.
The Arts Centre will be a central meeting point, where students will be greeted with a warm welcome, tea and coffee, be able to collect keys and get a chance to ask questions to key members of staff.
The 'A Team', volunteers from the Students' Union, will also be on hand across campus and at the main arrival points, such as the railway station, to help with any queries that the new students and their families may have.
Rebecca Davies, Pro Vice-Chancellor and Chief Operating Officer at Aberystwyth University, said: "Aberystwyth has always had a reputation as a welcoming university in a friendly, safe community. The student experience is at the heart of what we do and the introduction of the Big Welcome Weekend this year is the first step for our new students to learn and live in an exceptional environment.
"I would like to thank all the University Staff, Students' Union and Student Volunteers for all their hard work and the people of Aberystwyth for giving our new students such a fantastic big welcome!"
On Friday 23 September, there will be live music with local singer Calum Duell and others providing an opportunity for new students to familiarise themselves with their new environment and for returning students to meet up with old friends to catch up after the summer.
The following day on Saturday 24 September, University staff will be ready to welcome more new students to the campus. A free Pilates sessions and a sale of 'nearly- new' household goods in the Student Unions' will be some of the activities on offer throughout the day.
A ceremony to welcome international students will be held on Sunday 25 September. There will also be a lunch for Welsh speakers and learners, which will provide an opportunity for students to learn more about the work of the University's Branch of the Coleg Cymraeg Cenedlaethol and to enrol with UMCA. The Arts Centre will be offering free pizza and an opportunity for new students to relax after a busy weekend of settling in.
Throughout the weekend there will also be free sport taster sessions, tours of the Hugh Owen Library and Old College and half-price discount on cinema tickets at the Arts Centre.
The University has arranged a circular bus from 10am - 6pm Friday and Saturday, 8am - 8pm on Sunday to collect the new arrivals from the train station. University staff are welcome to use this service as well. The bus will run between the town, Penglais and Llanbadarn campus and will have prominent Aberystwyth University branding.
Further information about the Big Welcome Week and Orientation Week can be found on our website: https://www.aber.ac.uk/en/applicants/post-results/