Aberystwyth Graduate Opens New Zoo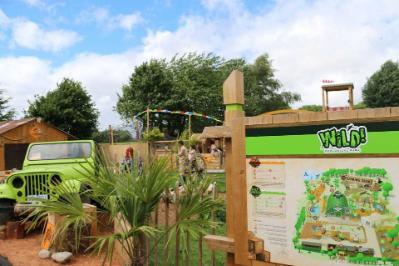 Three years after graduating from Aberystwyth University, Zac Hollinshead has realised a lifetime dream of running his own zoo.
Zac completed a degree course in Zoology at the Institute of Biological, Environmental and Rural Sciences (IBERS) in 2013 and he's now opened the WILD Zoological Park in Shropshire.
Zac said: "This new venture is the realisation of my lifelong dream to own my own zoo. I had a collection of animals when I came to study in Aberystwyth which I was fortunate to be able to keep at Borth Animalarium and I subsequently became Head Keeper there. Whilst studying for my Zoology degree, I also set up my own outreach company called Zac's Wild Encounters; and it's really just gone from there."
Zac grew up on a farm outside Wolverhampton and has always been interested in animals. Family friends ran the West Midlands Safari Park and he spent a great deal of time there when growing up.
A trip from school to experience university life was his first visit to Aberystwyth.
"Being a student in Aberystwyth was the best time of my life" said Zac. "I would agree with the statement that Aber is an exceptional place to learn and live, and having access to an ocean environment, yet in a rural setting was great for my chosen subject. My course was fascinating and my lecturers were very supportive, and by the time I graduated I regarded them as friends."
Zac and his team have regularly contributed to the University's annual Science Week event for schools with his "Wild Encounters Shack", featuring reptiles, animals and birds; informing and encouraging the zoology students of the future.
Dr Ian Scott, a Senior Lecturer in IBERS, said: "Zac was a committed and talented student and we wish him every success with his new venture. Zoology has been a very popular choice for students coming to Aberystwyth for many years. The recent National Student Survey results for 2016 shows a 92% student satisfaction rating for our Zoology degree scheme."
Dr Rupert Marshall, Reader in Animal Behaviour at IBERS, who runs the department's award-winning module on Zoo Science said "Running a zoo is something we all secretly imagine doing and I wish Zac every success!"
Zac added "The zoo aims to deliver a once in a lifetime, memorable, hands on experience to educate guests about animals, with a vision to teach, educate and conserve wildlife. WILD Zoological Park was born out of a dream to educate the public about different animals, poke holes in common misconceptions and to remove stigmas commonly associated with animals that aren't so cute and fluffy.'
The animals and staff at WILD Zoological Park are here to conserve wildlife and teach the general public about all forms of wildlife, with the hope that through teaching and deeper understanding, there will be a stronger drive to help us conserve the World's wildlife."