Another successful year for Aberystwyth's Summer University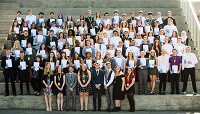 Aberystwyth Summer University 2016 students and staff after their 'graduation.'
Now in its sixteenth year, Aberystwyth's Summer University has once again provided an enjoyable, inspiring and hardworking summer for the staff and students alike.
The Summer University is a flagship widening access programme, featuring young people from all over Wales who come together to experience university-life and study academic subjects of their choice. This year's cohort of 78 young people 'graduated' in a glittering ceremony celebrating their hard work and achievements on Friday 26 August.
Priority for places at the Summer University goes to students who live or go to school/college in a Welsh Communities First area, or are from a care/care leaver background. Consideration is also given to young people who are the first from their family to go to university, those who have a disability or long-term illness, those from an under-represented ethnic group, those wishing to study a subject where one gender is under-represented, or those who have had a traumatic event which has affected their education.
The six-week programme of lectures, research and presentations allows students to gain a grounding in key skills such as academic researching, writing, and presenting; study academic modules from a wide range of subjects from Chemistry to Creative Writing, from Physics to Philosophy; and partake in a full programme of sports and social activities.
Dr Debra Croft, Manager of Aberystwyth University's Centre for Widening Participation, Equality and Social Inclusion which organises the Summer University, believes the strength of the programme lies in the fact that it mirrors university life as realistically as possible.
"The students have a full six weeks in which to immerse themselves in the experience of university, adjusting to being away from home, to the combined pressures of academic work and deadlines, sports and activities. They quickly learn organisational and time management skills, which enable them to enjoy a full programme of activities on the campus and in the local area."
"The support we offer to these young people doesn't stop when they complete the Summer University. We continue to keep in touch with students, assisting them with personal statements, references, support, advice and guidance of all kinds.
"Looking at students who have completed the Aberystwyth Summer University since 2012, around 85% have successfully gone on to Higher Education."
One of the young people who successfully completed this year's Summer University was 17 year old Karlie Griffin who attends college in Port Talbot. Karlie really valued the opportunity to experience University life. She said: "Before I came here I was very unsure whether I wanted to go to University, but this has made me realise that maybe University is for me after all. Over the last six weeks I feel as if my confidence has grown a lot. I've become more outgoing, and have shown qualities that I didn't know I had."
Emmanuel Ricalde, 17, who goes to college in Cardiff enjoyed the Summer University a great deal. Taking the opportunity to study courses in Maths, Physics and Art, Emmanuel said: "Other Universities run Summer Universities but they are much shorter. Because the Aberystwyth Summer University is for six weeks, it means you learn more, have time to get to know other people and make friends, and that you really get the feel for University life."
The Summer University also offers valuable work experience for current Aberystwyth University students to work as student leaders.
As Dr Debra Croft explains, "The Summer University not only benefits the young people who study with us. It also gives real experience to our team of Student Leaders as they assist with pastoral care and co-ordinate sports and social activities on the course.
"The Leaders are current students who have been trained to provide a high level of motivation and care to the summer students – some of whom have not stayed away from home before. This opportunity enables them to really hone their skills and increase their employment opportunities."
One of this year's Student Leaders was Amelia Sellers. Amelia completed the Aberystwyth Summer University herself in 2013. She came to Aberystwyth to study a degree in Fine Art the following year, and is shortly to begin her final year.
Amelia was very pleased to act as a student leader because it gave her the opportunity to give something back: "I had such an amazing experience doing the Summer University. It is absolutely incredible and makes such a difference to people's lives. I grew in confidence and changed so much as a person through doing the Summer University, and my own student leader was brilliant. I think having the student leaders is really good because it provides a support mechanism for people doing the Summer University, to help them make the transition to becoming more independent."
Nuffield Foundation Research Placements
The Summer University 'graduation' ceremony also acknowledged the work of the seven Nuffield Foundation Research Placement students who have spent their summer working with researchers at Aberystwyth University.
Nuffield Foundation Research Placements are offered to Year 12 students. Co-ordinated in Wales by Techniquest, the scheme helps students gain experience during their summer holidays in industry or research institutions covering Science, Technology, Engineering and Maths (STEM) projects.
One of this year's seven Nuffield Foundation Research Placements is Eda Rhianwen who studies Biology, Chemistry, Mathematics, Religious Studies and the Welsh Baccalaureate at Ysgol John Bright in Llandudno.
"It's been an amazing experience," said Eda. "I've been involved with other members of staff in a range of laboratory work such as selecting and cloning fragments of DNA and transforming them into E.coli cells. It's great to think I've been helping out on projects that will help change the future. I've often thought about becoming a research scientist when I'm older but this placement has made me realise that this is definitely the kind of work I want to do."
Eda was supervised by Dr Lucy Akinmosin, a postdoctoral researcher at the Institute of Biologica, Environmental and Rural Sciences at Aberystwyth University: ""I think the programme is an incredibly positive experience for students because it helps them build the self-confidence they need. Students are given the opportunity to work independently and acquire a realistic idea of what working in science really entails."