The Physics Buskers at the Green Man Festival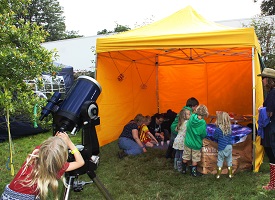 The Physics Buskers' stand at the Green Man Festival
The Physics Buskers team from the Department of Physics at Aberystwyth University will have a stand for the third consecutive year in 'Einstein's Garden' at the Green Man festival, which takes place in the Brecon Beacons between 18-21 August.
This year the focus on the stand will be 'Missions to Mars' where Aberystwyth University's involvement in the upcoming ESA ExoMars 2020 Rover will be discussed. There will also be Google Cardboard Virtual Reality Headsets to showcase a rollercoaster ride around a Martian crater, 3D Models of previous Mars Rovers and an interactive section on how to design your own Mars Rover.
The Physics Buskers society is a student led group committed to encouraging the public to engage with science. They are supported by the Department of Physics and have links with the Institute of Physics in Wales, from whom they have been fortunate enough to receive financial support.
Carys Huntly, a member of the Physics Buskers team, said: "Being a part of events, like Green Man Festival, is beneficial to all involved, it is important to get out there and get the public excited about science, as well as up to date with our latest research. It is a great opportunity for our student volunteers to get experience communicating science, and a fantastic chance to be involved in the project planning stages."
The Green Man Festival is an independent event which features a showcase of music, comedy, literature and science.