Research into Newtown Life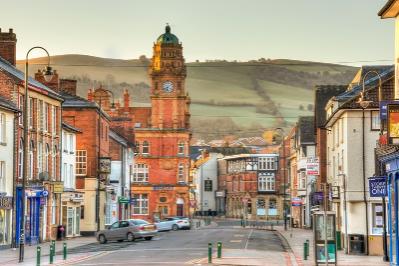 Newtown
Aberystwyth University's Department of Geography & Earth Sciences is sending a team of researchers to Newtown, Powys, to find out what it's like to live and work in the town today.
The University is conducting a large scale research project looking at how changes in technology, the economy and how we live today are affecting rural communities across the world.
Key sites chosen for the study include parts of China, Brazil, Australia, Canada, Liberia, Italy – and Newtown in Mid Wales.
Dr Marc Welsh from Aberystwyth University is the joint project leader and he says Newtown has been chosen for a range of reasons.
"Newtown is a really interesting and unique place, which has been integrated into international networks of trade and culture for a very long time through well-known local figures such as Pryce Jones and Laura Ashley. Today the town faces both challenges and opportunities for the future in a rapidly changing world, not least with the arrival of the long-awaited bypass."
The survey is part of a two-year research project specifically about Newtown led by Dr Marc Welsh and Dr Laura Jones, which is investigating what it takes for a small town to survive and prosper in a global age.
A team of researchers will be pounding the streets of Newtown and Llanllwchaiarn between Wednesday 24 August and Wednesday 7 September 2016.
A thousand houses have been selected at random to take part in the survey. The researchers will also be seen around the town centre over the Bank Holiday and during the Food and Community Festival 3-4 September.
"We really need the people of Newtown's help", said Dr Welsh, "both to help us with our research but more importantly to tell us what they think about life in Newtown and how it is changing. We think people will find the survey thought provoking and hopefully fun too!"
Those completing the survey will also be entered into a prize draw to win event vouchers or a meal at a local Newtown restaurant.
The project has the support of Newtown and Llanllwchaiarn Council as the Mayor, Cllr Richard Edwards, explains: "It is great that this research work is being done in Newtown giving our community the opportunity to comment on Newtown as it is now and its views of the future. Laura and Marc came to Newtown and Llanllwchaiarn Town Council and asked for our ideas about what some of the questions for the survey could be. It has been good to work with them and help shape the survey. I'm sure the results will be very informative and provide ideas for future projects in the town".
To read more about the university's research in Newtown, you can visit the project website: www.assemblingnewtown.org