Fifteen Years of Friendship and Poetry at Aberystwyth University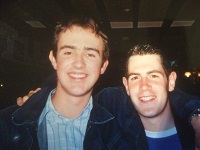 Dr Hywel Griffiths (L) and Eurig Salisbury (R)
The poetry and stories of two former students who are both now chaired bards and respected Aberystwyth University lecturers will be celebrated in a special event on the National Eisteddfod field.
Dr Hywel Griffiths and Eurig Salisbury both joined Aberystwyth University as freshers back in 2001 after attending the same secondary school, and have since gone on to simultaneously successful careers not only in their chosen academic fields but also through their poetry.
The event 'Cerddi Pymtheng Mlynedd' (Fifteen Years of Verse) will take place at 11.00am on Thursday 4 August on the Aberystwyth University stand at the National Eisteddfod in Abergavenny.
The aim is to give a taste of how both Eurig and Hywel's poetry has not only evolved during their time living in Aberystwyth, but has also played an important role in their academic work.
A native of Carmarthenshire, Eurig Salisbury came to Aberystwyth University in 2001 to study Welsh and Television Studies.
After later completing an MPhil on the life and work of Guto'r Glyn, he has since become a lecturer in the department of Welsh and Celtic Studies at the University, specialising in creative writing.
Alongside his career accomplishments, Eurig Salisbury has won an Urdd National Eisteddfod Chair, edited several Welsh literature journals and published both poetry and novels. He was also the first Welsh Children's Poet Laureate (Bardd Plant Cymru) to serve for two consecutive years 2011-13.
Looking back on his time in Aberystwyth, Eurig Salisbury said: "There is more than one Aberystwyth. We both came to Aber as students and have since made it our home. The town has shaped both of us as individuals and academics, as well as our work. Hopefully this event gives people, and ourselves, the chance to see how our work has evolved alongside Aber itself."
Dr Hywel Griffiths has a slightly less traditional background as a poet. Having completed a degree in Geography and Mathematics in 2004 followed by an MA and PhD in Geography, he has been a Welsh medium lecturer in the Geography and Earth Sciences Department at Aberystwyth since 2009.
In addition to his geographical endeavours, Dr Griffiths' list of literary accolades include winning the Urdd National Eisteddfod Chair twice, the National Eisteddfod Crown in 2008 and the National Eisteddfod Chair in 2015. He has also penned a children's novel which won the Tir na n-Og award in 2011 and a volume of poems which was on the Welsh Book of the Year shortlist in 2010.
With such a background, it is perhaps unsurprising that much of Hywel's poetic influences mirror that of his geographical research, with rivers and the natural world being key themes.
Dr Griffiths said: "My time both as a student and as a member of staff at Aberystwyth University have been instrumental in shaping my poetry over the last 15 years. I've been fortunate enough to travel to many very interesting places in Wales and across the world with my geography research which has created exciting and provoking material for my work. However, Aber remains a central influence."
Both Eurig Salisbury and Hywel Griffiths will be sharing their poetry and tales of their adventures in 'Cerddi Pymtheng Mlynedd' on the Aberystwyth University stand at the National Eisteddfod at 11.00am on Thursday 4 August.
The event is one in a wide range of academic and cultural activities which the University is organising on the Eisteddfod field. Our full programme of events is on our website.