University celebrates another successful year for the Green Impact scheme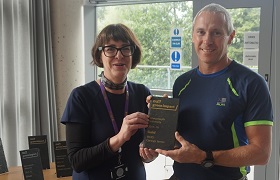 Pro Vice-Chancellor and Chief Operating Officer, Rebecca Davies presenting Sport & Exercise Science Technician, Alan Cole, with the Gold Standard Green Impact Award for IBERS (Carwyn James).
Aberystwyth University celebrated a third successful year for the Green Impact scheme on Wednesday 27 July at its prize giving lunch-time event.
Green Impact is an environmental accreditation and awards scheme run by the National Union of Students in institutions across the UK.
It aims to promote environmental awareness and sustainability amongst staff and students and give them the opportunity to proactively make a positive difference in their workplace.
Thirteen teams from different departments across the University took part in the scheme in 2015-16, and were audited by student volunteers in April.
All teams were recognised for their achievements; five were awarded the Gold Standard, six achieved Silver, and two were awarded Bronze.
Achieving the Gold Standard were teams from Human Resources, Estates Sustainability, IBERS (Carwyn James), Information Services and the Institute of Education, Graduate and Professional Development (Cledwyn).
Awarded the Silver Standard were the Earth Observation and Ecosystem Dynamics Research Group, the Institute of Mathematics, Physics and Computer Science, and teams from the Careers Service, Planning and Governance, Psychology, and Research, Business & Innovation.
Estates Grounds and the Aberystwyth Arts Centre were awarded the Bronze standard.
Health, Safety, and Environment Advisor, Dr Heather Crump stated: "Green Impact, part of the Live Greener behaviour change campaign (e.g. Blackout and Student Switch Off), has grown in popularity over the past three years, with more and more people getting involved and engaged with the scheme.
"With news of it continuing for another year, we hope it continues to gain momentum and even more sustainability initiatives take place. Green Impact is integrated into the University's drive to achieve the internationally recognised ISO 14001 standard for environmental management."
Environmental behaviour change initiatives, such as the Green Impact scheme, are a key component of the 'Carbon Management Strategy' for the University which can be found here http://www.aber.ac.uk/en/media/departmental/estates/pdfs/Carbon-Management-Strategy-Executive-Summary-(April-2014).pdf and highlighted in the Estates Strategy 2012-2027 http://www.aber.ac.uk/edocker/?pub=21
More information about Green Impact can be found here http://www.green-impact.org.uk/ and the University's Sustainability webpages http://www.aber.ac.uk/en/sustainability/
AU24616