Welsh Geographer's Language Policy Legacy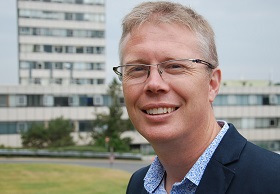 Professor Rhys Jones
Welsh language policy will be the subject of Aberystwyth University's annual E. G. Bowen Lecture at this year's National Eisteddfod in Abergavenny at 12pm on Wednesday 3 August.
The lecture will be delivered this year by the Head of Aberystwyth University's Department of Geography and Earth Sciences Professor Rhys Jones, who will assess the contribution of internationally renowned Welsh geographer Emrys George Bowen to the academic and policy understanding of Wales's linguistic geography.
Entitled 'Gwaddol E.G.Bowen ar gyfer Polisi Iaith yng Nghymru' ('E.G. Bowen's Legacy for Language Policy in Wales'), the lecture will explore whether his work has ultimately hindered the shaping of Welsh language policy.
Almost fifty years ago, Professor Emrys Bowen discussed the need to understand the geography of Wales and in particular of 'Le Pays de Galles' - those areas of Wales where most Welsh was spoken.
His work has formed the basis of many academic and policy studies as well as the foundation of our current geographical imagining of Wales as a county and the geography of the Welsh language.
During his lecture, Professor Rhys Jones will be asking a series of questions:
Has the focus on the Welsh language community, and the connotations of the 'Welsh heartland' as a stronghold for the Welsh language, led to a lack of consideration for the complex and varied uses of the language found in contemporary Wales?
Has Bowen's geographical imagining of Wales, signified by his maps of the deterioration of the Welsh language, hindered the development of more effective, more exciting, more audacious linguistic policies?
Do we need to develop new ways of understanding the geography of linguistic ability together with the use of the Welsh language?
Professor Rhys Jones said: "It is a great privilege for me, as someone who has received all my higher education in the Geography Department at Aberystwyth University, to deliver this lecture and to do so by taking a critical look at Emrys Bowen's legacy for a topic that matters greatly to us as Welsh people."
The Annual E. G. Bowen Lecture was established by Aberystwyth University in 2014 in memory of Professor E. G. Bowen, who had a particular interest in the social and physical geographies of Wales.
Born in Carmarthen, Bowen was a member of the academic staff at what was then the Department of Geography and Anthropology at Aberystwyth from 1929 and was still writing and lecturing until his death in 1983.
The lecture will start at 12pm on Wednesday 3 August on Aberystwyth University's stand at the Monmouthshire & District National Eisteddfod 2016 in Abergavenny.
For a full list of events, lectures and activities organised by Aberystwyth University at this year's National Eisteddfod, see the programme on our website http://www.aber.ac.uk/en/eisteddfod or call by our stand to find out more.
AU25516