Decade of change: Television and Society in Wales in the 1970s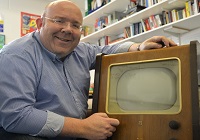 Dr Jamie Medhurst with a 1949 Philips television
Visitors to the Aberystwyth University stand at the National Eisteddfod will have the opportunity to hear a lecture from Dr Jamie Medhurst on 'Decade of change: Television and Society in Wales in the 1970s' at 10.30am on Monday 1st August.
Dr Medhurst is Senior Lecturer in Media and Communication and co-Director of Aberystwyth University's Centre for Media History.
The historian Dr John Davies described the 1970s in Wales as a period of 'major commotion in the political history of broadcasting in Wales'. Dr Jamie Medhurst's lecture will discuss this statement and present a new research project funded by the Leverhulme Trust on the history of television in Wales, and the relevance of television and society in Wales, in this turbulent decade.
There will be a variety of talks, lectures and interactive activities to suit all ages and interests at Aberystwyth University's stand at the National Eisteddfod, which takes place in Castle Meadows, Abergavenny from 29th July – 6th August.  Aberystwyth University is also the main sponsor this year of the Science and Technology Pavilion, where there will be a range of activities and the opportunity to find out more about our pioneering, international-standard research.