Aberystwyth University supports surplus food redistribution in the town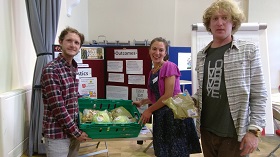 Left to right: Aberystwyth University PhD students Chris Byrne and Heather McClure and former student Chris Woodfield, who helped organise the conference.
Students from Aberystwyth University helped organise a conference that was held on July 13th to see how surplus food from local food businesses could be used to help community groups in the town.
The event brought together staff from supermarkets, charities and local and national government to explore how supermarket surplus food could be used to benefit the town, instead of being thrown away.
It built on work that students from the University's Sustainability Society have been doing, with support from WRAP Cymru, the Welsh waste management organisation.
Acting Vice-Chancellor John Grattan said: "At last year's event we were happy to sign an agreement with WRAP that we would cut food packaging waste on campus and we've continued to make progress in that area with regular collections of waste food from student accommodation. We're proud of our reputation as an academic centre for food and farming, and we are pleased that our students are now extending this work into the town."
The conference also heard speakers from the Fishguard Transition Café, a pioneering project which turns 850kg of surplus food every month into nutritious and affordable meals, while providing a space for volunteers and community groups to come together.
Delegates were served a meal of soup and baguettes prepared by the Treehouse from leftover food supplied by Morrisons and Lidl.
The event was supported by a team from Bangor University who are looking at the values that motivate people who work with food, and developing ways to reinforce people's enthusiasm for involvement in their local communities.
Postgraduate student Heather McClure said: "It has been very interesting and rewarding to talk to Morrisons and other local businesses and help link them to charities who are able to make good use of the food. We feel like we are making a real difference in the town, as well as gaining valuable experience."
The event built on earlier events organised by the University to convene people with an interest in food in the local area, including its catering staff, local food businesses and academic staff including researchers in plant breeding, geography and international politics.
The event is one in a series of events looking at how engaging with values can support work on food and builds on earlier research on Food Values conducted by Aberystwyth University.

AU23516