Aberystwyth University hosting promising US students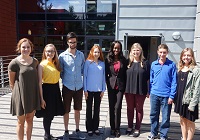 The eight students visiting Aberystwyth University as part of the Fulbright Commission Wales Summer Institute.
Aberystwyth University is currently hosting eight promising students from the United States, who are spending a fortnight at the University as part of the Fulbright Commission Wales Summer Institute.
Now in its sixth year, the Fulbright Commission Wales Summer Institute is a prestigious six-week cultural and academic programme for US students, held at three internationally renowned Welsh universities: Aberystwyth, Bangor and Cardiff University. This year's visit takes place from 25 June - 6 August 2016.
The participants will learn about Wales – its culture, history, its geographical differences and the role that industry has taken in shaping the historical, political and cultural landscape of Wales. 
Using the dramatic and wide ranging natural and man-made resources available across Wales, students will receive a unique insight into what makes Wales such a dynamic, diverse and fascinating country.
Participants will also learn about the role of Wales within the United Kingdom and the wider world and Welsh influences internationally.
The undergraduates have already visited Bangor University and are now spending a fortnight at Aberystwyth to look at the changing economic and social issues of mid Wales, before moving on to Cardiff University for the final two weeks of the programme.
Gillian McFadyen from the Department of International Politics, explains, "They've got a busy schedule planned over the next fortnight visiting the Royal Welsh Show, Ynyslas Dunes, the National Library of Wales, Welsh Government, Nant yr Arian, Hafod Estate, the Centre for Alternative Technology as well as attending seminars and talks at Aberystwyth University.
"The aim of the programme is to provide the students with an exciting academic programme, to explore the geography, culture, heritage and history of Wales as well as develop their learning, research and communication skills."
The visiting students are:
Hunter Barclay, Marshall University (West Virginia)
Erica Cordatos, Stonehill College (Massachusetts)
Mariah Fallick, Nebraska Wesleyan University (Lincoln, Nebraska)
Silvia Martin, University of Illinois at Urbana-Champain (Illinois)
Graeme McGuire, University of Rochester (New York)
Paris Stroud, Georgia State University (Atlanta, Georgia)
Emily Tatum, Miami University (Ohio)
Emily Turner, Butler University (Indianapolis)
The Fulbright Commission has been promoting peace and cultural understanding through educational scholarships since 1948. The Fulbright is one of the most prestigious global awards programmes. The Summer Institutes are designed to introduce students to the UK while developing their academic and leadership skills.
AU22516