Writer, campaigner and television pundit Natasha Devon MBE honoured as Fellow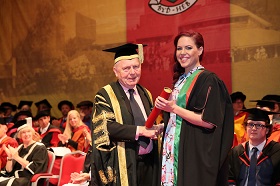 Sir Emyr Jones Parry, Chancellor of Aberystwyth University with Natasha Devon MBE.
Writer, campaigner and television pundit, Natasha Devon MBE has been presented with an Honorary Fellowship of Aberystwyth University.
An alumna of the University, Natasha is founder of the Self Esteem Team and the Body Gossip Education Programme, both working in schools to help teenagers, their parents and teachers with mental health and body image.
In 2015 she was awarded an MBE in the Queen's Birthday Honours List in recognition of her services to young people.
Natasha Devon was presented as Fellow on Wednesday 13 July by Dr Sarah Riley, Department of Psychology.
Presentation of Natasha Devon MBE
Canghellor, Is-Ganghellor, darpar raddedigion, gyfeillion. Pleser o'r mwyaf yw cyflwyno Natasha Devon yn gymrawd Prifysgol Aberystwyth.
Chancellor, Vice-Chancellor, prospective graduates and supporters. It is an honour and a privilege to present Natasha Devon as a Fellow of Aberystwyth University.
Natasha Devon MBE is a writer, campaigner and self-styled 'televisionpundit'. She is the founder of the campaign group Self Esteem Team and the arts and education charity Body Gossip.
Natasha is the founder of the campaign group Self Esteem Team and the arts and education charity Body Gossip.
Body Gossip delivers Education Programmes to schools to help teenagers, their parents and teachers with mental health and body image. Her classes are award-winning and to date have been delivered to more than 60,000 teenagers across the UK. Natasha's programmes communicate psychology and critical thinking in ways that make sense and give young people the chance to develop resilience and better mental health.
Natasha's approach is also highly political. She makes the connections between policy and psychology and communicates these brilliantly and entertainingly across a range of media including Cosmopolitan magazine, Times Education Supplement, daytime TV and twitter. She is tireless in her championing for young people and her vision of a better world. Her put downs to twitter trolls are priceless.
A measure of Natasha's brilliance was her appointment as the government's Mental Health Champion for Schools, in 2015 – and perhaps a stronger measure of her brilliance was that they fired her. This didn't stop the Sunday Times and Debretts naming her in 2016 as one of the 20 most influential people in British education.
Although not from Wales, Natasha read English at Aberystwyth and remembers her time here fondly. Perhaps that's not surprising since she shares many values associated with the Welsh people – she is community oriented and is passionate about justice. I've not heard her sing though.
Natasha has brought psychology and politics together in an original way and in the cause of making the world a better place and – I think – she's also having some fun on the way.
Canghellor, mae'n bleser gen i gyflwyno Natasha Devon i chi yn Gymrawd.
Chancellor, it is my absolute pleasure to present Natasha Devon to you as a Fellow of Aberystwyth University.
Aberystwyth University Honours 2016
Twelve individuals are being honoured by Aberystwyth University during the 2016 graduation ceremonies, which take place at the University's Arts Centre from Tuesday 12 July until Friday 15 July.
Eight Honorary Fellowships will be presented to individuals who have, or have had a connection with Aberystwyth or Wales, and who have made an outstanding contribution to their chosen field.
One Honorary Doctorate degree will be presented. These are presented to individuals who have been outstandingly successful in their field, or who have a long record of renowned research and publication.
Three Honorary Bachelor degrees will be presented. These are presented to individuals who are members of Aberystwyth University staff without an entry-level degree in recognition of long-service, contribution and dedication to the Institution; and members of the local community who have made a significant contribution to Aberystwyth and the area.
Also being honoured are:
Honorary Fellowships:
Dr Catherine Bishop, triple Olympian, international conflict diplomat and experienced speaker and facilitator
Professor Julian Dowdeswell, Director of the Scott Polar Research Institute and a Professor of Physical Geography at the University of Cambridge
Charmian Gooch, anti-corruption campaigner and co-founder and director of Global Witness
Ruth Lambert MBE, former Chairman of the Machynlleth Tabernacle Trust, who organised the Machynlleth Festival and the exhibition programme of MOMA (Museum of Modern Art) Machynlleth for almost thirty years
Dr Mitch Robinson, international law specialist for the US Department of Defense specialising in human rights, and an alumnus of the University
Sir Evans Paul Silk KCB, President of the Study of Parliament Group; formerly clerk in the British House of Commons, Clerk to the National Assembly for Wales and chair of the Commission on Devolution in Wales
A J S "Bill" Williams MBE (1920-2016), RAF pilot and Aberystwyth University lecturer named in 2014 as one of the Royal Society of Chemistry's 175 Faces of Chemistry.
Honorary Doctorate Degree:
Professor Ken Walters, Distinguished Research Professor in the University's Institute of Mathematics, Physics and Computer Science, founding fellow of the Learned Society of Wales and a Fellow of the Royal Society
Honorary Bachelor Degrees:
Karina Shaw, Assistant Headteacher at Ysgol Penglais, Aberystwyth, Director of the Penparcau Community Forum, founder member and current Chairwoman of the Penparcau History and Heritage group, and charity volunteer
Aled Haydn Jones, Welsh radio editor, presenter and former radio producer with BBC Radio 1, and presenter with S4C.
Stefan Osgood (1994-2016), who achieved and contributed a great deal while studying at Aberystwyth, including through his involvement in sports, and as an exceptional contributor to Raising and Giving at the University.
AU21316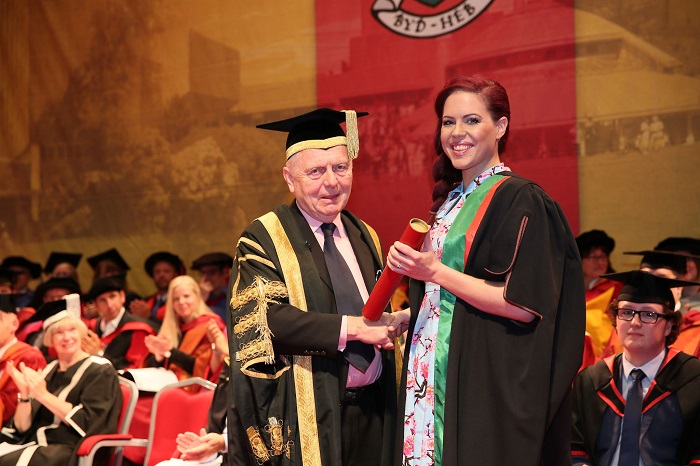 Sir Emyr Jones Parry, Chancellor of Aberystwyth University with Natasha Devon MBE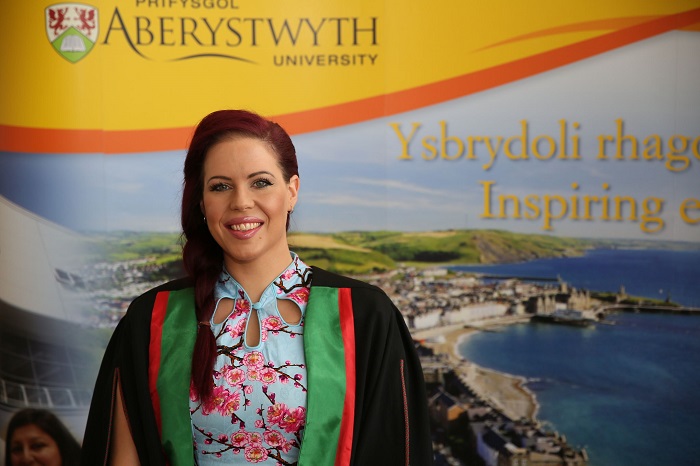 Natasha Devon MBE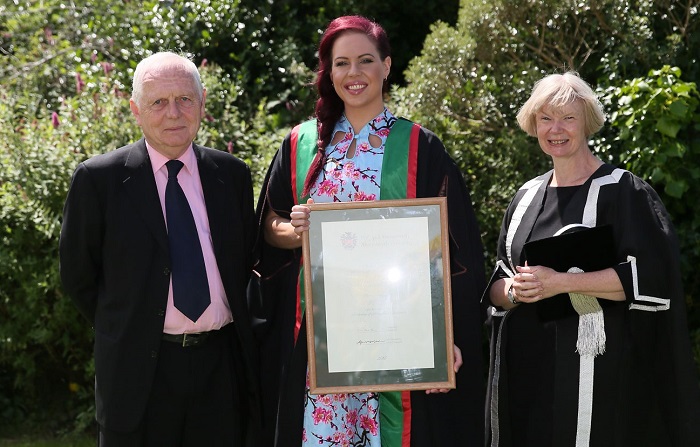 Chancellor Sir Emyr Jones Parry, Natasha Devon MBE, and Vice-Chancellor Professor April McMahon