Council Endorses Plans to Reopen Pantycelyn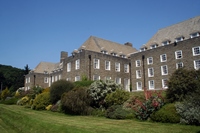 Pantycelyn Hall of Residence
Aberystwyth University Council has endorsed plans to reopen the Pantycelyn student hall of residence and intends to proceed with the project to provide refurbished Welsh-medium accommodation in Pantycelyn by September 2019.
At their meeting in the Old College today (Wednesday 29 June 2016), Council members approved Option B of the design brief which was outlined in a report by the Pantycelyn Project Board published last month.
The planning process will now move forward and Council has invited the University Executive to present a report to the Finance Committee in October setting out funding options for the project, including consideration of a specific fundraising campaign for Pantycelyn.
Council underlined that in the University's current financial position, and given post-referendum uncertainties and HEFCW rules, the necessary funding will have to be secured so that the Council can give a definitive commitment.
"Today marks another step forward in our intention to provide fit-for-future accommodation in Pantycelyn for Welsh-medium students coming to Aberystwyth," said Chair of Council and Chancellor of Aberystwyth University, Sir Emyr Jones Parry.
"During our meeting, we also underlined our commitment to the Aberystwyth Innovation and Enterprise Campus in Gogerddan, and agreed to proceed with our continued bid for Heritage Lottery Funding for the Old College."
The Pantycelyn Project Board has met regularly since September 2015 to discuss the future of the building, consulting widely with students, students' unions, university staff and the wider community.
At the Council's request, the work of the Pantycelyn Project Board will continue and will focus on working with architects to develop detailed plans for revamping the building which has provided Welsh-medium accommodation since 1973.
The President of Aberystwyth Welsh Students' Union (UMCA) Hanna Merrigan who is also a member of the University Council, said: "I welcome today's decision and UMCA will continue to work with the University to ensure that Pantycelyn hall of residence reopens for the students of the future."
Welsh-medium accommodation will continue to be provided at Penbryn halls of residence on Penglais campus, with the section dedicated as Welsh-medium accommodation branded separately so that the link with Pantycelyn is maintained.