Romantics Biometric Research Selected for London Showcase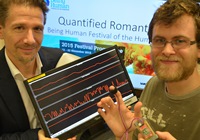 Professor Richard Marggraf Turley and research associate Tom Blanchard with some of the equipment used to gather biometric data.
Research by Aberystwyth University on the emotional impact of art and literature has been chosen as one of the highlights of the Being Human Festival showcase to be held at Senate House, London, on Monday 27 June 2016.
The 'Quantified Romantics' project is being led by Professor Richard Marggraf Turley from the University's English & Creative Writing Department, and Professor Reyer Zwiggelaar from Computer Science.
Together, they've been developing a technique to measure our emotional response to art – in particular, the poetry, prose and paintings of the Romantic period.
Do gothic novels really stir the pulse, as their Romantic authors claimed? Can paintings of yawning chasms, nightmarish creatures, ruined abbeys in dark forests and rocky precipices actually cause measurable chills of terror?
In their pursuit of answers, Marggraf Turley and Zwiggelaar, with Research Associate Tom Blanchard, have been using a specially-designed 'smart' wristband to collect biometric data on how people react emotionally when they read Romantic poetry or novels, or look at Gothic paintings.
The research was first showcased at a special event held at Ceredigion Museum in Aberystwyth last November as part of the 2015 Being Human Festival which featured more than 300 events across the United Kingdom.
The organisers have now selected a handful of the best events from last year for a one-day exhibition at Senate House in London on 27 June 2016.
"The event at Senate House will showcase best practice in public engagement from last year's festival so we're thrilled to be among the four selected projects," said Professor Marggraf Turley, who is also Aberystwyth University's Professor of Engagement with the Public Imagination.
"Our research explores some of the more intriguing aspects of what it means to be human and also raises wider questions about today's tracking technology."
The Being Human Festival showcase is led by the School of Advanced Study at the University of London, in partnership with the Arts and Humanities Research Council and the British Academy.