Dance-Theatre Company to perform Gwdihŵ at Aberystwyth University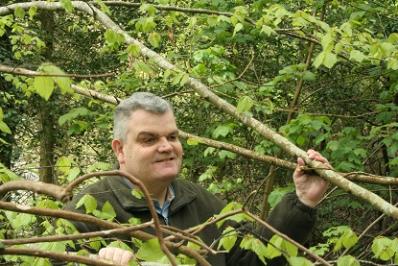 Andrew Evans, a member of Corff Ystwyth and creators of Gwdihŵ
A dance-theatre company that meets at Aberystwyth University is preparing to perform a show written by one of its members.
The show is called Gwdihŵ (Owl) and explores through dance the different elements of the wise old creature's character.
Gwdihŵ will be performed in the studio space at the Department of Theatre, Film & Television in the Parry-Williams Building on Penglais Campus, at 6.45pm on Friday 10 and Saturday 11 June 2016.
Andrew Evans from Aberystwyth has been a member of the Cyrff Ystwyth ('Supple Bodies') for more than 20 years but this is the first time he's created a performance piece.
Cyrff Ystwyth was set up by Margaret Ames – a senior lecturer in Theatre, Film & Television at Aberystwyth University.
The company brings together local people who don't have any formal training in dance or theatre, including several who have learning or physical disabilities.
"Gwdihŵ is the latest in a series of performances which have been created over the years by different members of Cyrff Ystwyth," said Margaret.   
"My work with the company forms the basis of my research in the field of Performance and Disability, and looks at the aesthetic and political challenges that emerge through theatre practice by and with people who have learning disabilities."
Tickets cost £6 and are available from Margaret Ames mma@aber.ac.uk.