Achievements of Distinguished Physics Professor celebrated at international Symposium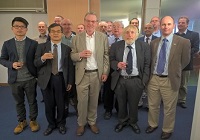 Professor Neville Greaves (centre) with speakers at the Symposium on Science of Disordered Materials held at University College London recently.
The Frontiers of the Science of Disordered Materials Symposium at University College London was recently held to mark the 70th birthday of Professor Neville Greaves.
The event bought together a world-class line up of academics from the US, China, Japan, France and Germany as well as Cambridge, London, Cardiff, Canterbury and Aberystwyth to celebrate Professor Greaves' birthday and contribution to measuring and predicting the properties of materials at the atomic level.
Professor Greaves became a Distinguished Research Professor in Physics at Aberystwyth University in 2010 and was awarded the 2011 George W Morey Award, from the American Ceramic Society, for major contributions to the field of glass science. This year he will be the Cooper Distinguished Lecturer at the annual meeting of the American Ceramic Society in Salt Lake City.
Introducing the occasion in London Professor Richard Catlow FRS said:
"It was Neville who pioneered the Physics of X-rays at the world's first dedicated synchrotron radiation source.
Mysteries of the structure of glass and ceramics, the operation of catalysts, the improvement of battery materials, understanding the geology of the Earth's Crust, advancing heritage projects like the Mary Rose, are just a few of the complex problems that have been solved using these techniques and continue to be successfully challenged with new X-ray and neutron machines in the 21st century.
"We owe him a great debt in what he did then, and what he has continued to do, always bringing the element of surprise."