Matter of Life and Death: Photographs from the University Collection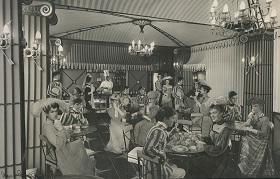 'All the Best People Eat at the Pavilion Restaurant', photographic collage on board by Angus McBean, 1954
Over the summer months, visitors to the School of Art Gallery at Aberystwyth University are being given a rare opportunity to view items from the University's photography collection.
Matter of Life and Death is an exhibition of sixty black-and-white photographs selected for display by a group of School of Art students who were enrolled on the module Staging an Exhibition.
Throughout the course, student curators debated how to interpret the photographs and relate them to each other to develop a narrative. Only the medium and the title had been decided beforehand.
Dr Harry Heuser, Teaching Fellow in the School of Art, who runs the Staging an Exhibition module said: "The photographs in Matter of Life and Death predate our digital age. They were produced with precious materials, costly equipment and finite rolls of film. They were meant to matter – to live and die – as prints. Looking at these works in historic, cultural or autobiographical contexts, the exhibition invites a debate about values. Who deserves our commemoration? What is worth holding onto, exposing and sharing?"
Many of the photographs have been not been exhibited at the gallery since the 1990s. This is also the first exhibition at the School of Art to feature works by the Welsh photographer Angus McBean, best known for his surrealist photographs of British and American stage actors and screen stars.
The photographs on display range from mass marked prints of the late nineteenth century to a personal photograph album. Some photographers are famous (McBean, Walker Evans, and Mario Giacomelli among them); others are unknown.
Photographs of farmers in 1930s Alabama are shown alongside photographs of miners in 1980s Sardinia. Life in Aberystwyth is featured next to scenes observed in Palermo, Osaka and Bangkok. Visitors will see the faces of youth. But they will also be confronted with the aged, the dying and the dead.
Matter of Life and Death is open from Monday-Friday, 10am – 5pm, in the School of Art Gallery, and runs until Friday 9 September 2016.