Acting Vice-Chancellor sets his sights at IronMan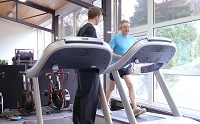 Professor John Grattan training for the IronMan challenge with Richard Martin, Gym Instructor and Personal Trainer at the University's Sports Centre.
Professor John Grattan, the acting Vice-Chancellor of Aberystwyth University, is taking part in the world famous Iron Man challenge in Pembrokeshire later this year, with the aim of raising money for the Aberystwyth University Student Hardship Fund and student wellbeing.
Comprising a sea swim, bike ride and a marathon the Tenby Iron Man is a formidable challenge that only the fittest and most determined competitors can survive in; therefore to prepare In preparation, John will work with the University Sports Centre and Sports Scientists in IBERS following a rigorous training schedule aiming to accumulate over 500 hours of training over the coming weeks.
John is raising money for the Student Hardship Fund that allows the University to offer financial support to students who find themselves in serious financial crisis through no fault of their own. Usually it is only through the support of Alumni from Aberystwyth University that makes the fund possible, but this year the Acting Vice Chancellor has made it his mission to contribute and raise awareness as well.
The Hardship Fund and student welfare are things that John cares for and that are close to his heart, coming from his own experiences from when he was young: when he was 18 going to university was not an option like it was for lots of other people because he was needed to stay home and help support his parents and siblings.
A sign of John's determination even then is that he worked hard at his goal and never gave up - and eventually, eight years later, he finally made it to The University of Manchester.
According to the Vice-Chancellor: 'When I eventually reached university at the age of 26 it changed my life, giving me a new and broader outlook. I want to try and ensure that others have the same opportunities to reach their potential.
'Finishing IronMan is without doubt a tough ask but I hope my ambition for our students and the University will help me accomplish it. Aberystwyth University is all about an outstanding student experience, and the Hardship Fund has our students at its heart.'
Supporters can follow him as he intends keeping video diaries documenting his progress and providing regular social media updates. John Grattan will compete in the Tenby IronMan on Sunday 18th September. You can donate and follow his progress via his micro blog on:www.aber.ac.uk/ironmanvc