University and Age Cymru Ceredigion offer free fitness 'MOT' to over 60s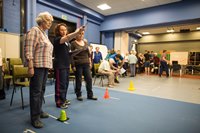 On Wednesday 20 April 2016 sports scientists at Aberystwyth University and AGE Cymru Ceredigion will host a free 'functional fitness workshop' aimed at the over 60s in the county to assess their ability to perform daily tasks.
This is the third time this annual event has been offered, and will take place between 10am-4pm in the Carwyn James Building on the Penglais campus of the University.
Dr Marco Arkesteijn, a Lecturer in Sport and Exercise Biomechanics at IBERS said: "Supervised by staff, our students run the activities on the day, focusing on a series of tests to assess the current fitness status of individuals.
There is no obligation to commit to anything following the assessment but those taking part will be fully informed about their current level of fitness, and can address any issues that may arise in their own time, at their own pace."
The workshop aims to assess an individual's fitness and ability to perform various daily tasks, referred to as 'functional assessments'.
Attendees are not required to complete all components, but completing as many as possible will produce a clearer overview into the individual's health and functional fitness status.
Assessments will include; flexibility of legs and arms and blood pressure. Following the assessments, attendees will be provided with an overview of their strengths and weaknesses in the different components of fitness and guidance will be provided on maintaining a healthy lifestyle with the aim of improving quality of life.
Simon Wright from Age Cymru Ceredigion said: "Here at Age Cymru Ceredigion we're delighted to be working again with the sports scientists at IBERS. As we get older, understanding and maintaining our fitness becomes hugely important to remaining independent and active. This event helps achieve that goal.
We also acknowledge Clwb Llewod Aberystwyth – Aberystwyth Lions Club for their generous contribution towards this event."
Refreshments will be available throughout the day including a light lunch. Age Ceredigion volunteers will also be present to guide and help with any issues. This event is supported by Aberystwyth Lions Club.
The workshop is open to all and is suitable for people of all abilities, and will include vision and hearing assessments and foot health care.
It is essential to book in advance by contacting AGE Cymru Ceredigion on 01970 615151/ ab@agecymruceredigion.org.uk.

AU13816