Historian awarded £272,000 to study political work of Richard Brinsley Sheridan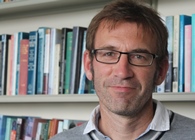 Professor Martyn Powell
Martyn Powell, Professor of Modern Irish History at Aberystwyth University, has been awarded a £272,000 Leverhulme Research Project Grant to study the political work of Richard Brinsley Sheridan.
Playwright, theatre-owner, MP, 'spin-doctor', drinker, debtor – Irish-born Richard Brinsley Sheridan (1751-1816) was a notorious figure in the late-eighteenth century, arguably the first age of celebrity.
But while his theatrical works – School for Scandal and The Rivals remain well known and continue to be performed, the significance of his political career has been underplayed. Yet he was reckoned to be one of the greatest speakers parliament has ever seen – his speech in the trial of Warren Hastings, India's Governor General, perhaps the best in its history.
Professor Powell will be collaborating with Dr Robert Jones of Leeds University on the four year project which aims is to recover and reappraise Sheridan's political career, investigating his national and international significance as a politician and orator, and his wider political activity, including writing for the press – he was an early defender of its freedom, and one of his speeches on this subject is inscribed in the interior of Chicago's Tribune Building.
The project's primary outcome will be the publication of a 4 volume scholarly edition of Sheridan's complete political works, contracted to Oxford University Press.
The Leverhulme Trust was established by the Will of William Hesketh Lever, the founder of Lever Brothers. Since 1925 the Trust has provided grants and scholarships for research and education. Today, it is one of the largest all-subject providers of research funding in the UK, distributing approximately £80m a year. For more information about the Trust, visit www.leverhulme.ac.uk
AU11316