Celebrating International Women's Day 2016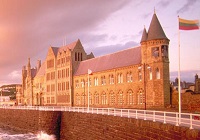 A series of events are being held across Aberystwyth University in the week leading up to and following on from International Women's Day on Tuesday 8th March.
The varied programme of events provides opportunities for students, staff and members of the local community to come and celebrate women and their achievements.
Highlights from the full programme of events include can be found here and includes:  
'Women and care: Empowering Women in Wales'; a talk hosted by the Women's Equality Network ()

'A life in Fresh Water – Kathleen Carpenter (1891 – 1970), a pioneering freshwater ecologist at Aberystwyth University' presented by Catherine Duigan and Warren Kovach.
'Beyond the binary: All the genders we are' presented by Aberration
On International Women's Day the National Assembly for Wales presents 'Women in Wales 2016 – Vote for your future'.
All of these events are open for all to attend.
As well as events on campus, women of all ages are invited to come and celebrate International Women's Day in Penparcau, where there will be talks, a discussion group and workshops for all to enjoy.
Commenting on the programme of activities, Dr Debra Croft, Director Equality at Aberystwyth University said:
"International Women's Day events that lead up to, follow on from and include the day itself on March 8th are part of the annual Calendar here at Aberystwyth. The events we host aim to highlight the work and achievements of women in our institution and across the UK whilst also providing a platform for the discussion and debate of wider issues faced in gender equality.
Every year it is a pleasure to see the number of distinguished speakers we have involved in our events; their careers and contributions clearly demonstrate the role and value of women in 21st century society.
Our celebration of International Women's day and engagements with events we have this year are evidence of our ongoing commitment to gender equality in Aberystwyth – an acknowledgment that equality is an issue for all."
AU7116