IBERS students to take part in first ever Botanical University Challenge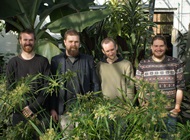 IBERS University Challenge Team (left to right): Rob Bellow, 3rd year Plant Biology; Sam Thomas, PhD Student; Henry Dewhirst, first year Plant Biology; Jacques Turner-Moss, 3rd year Conservation.
The Royal Botanical Gardens at Kew is set to host the first ever Botanical University Challenge in March.
The event is being organised jointly by the Institute of Biological, Environmental and Rural Sciences (IBERS) at Aberystwyth University and the University of Reading.
IBERS will be taking a strong team of undergraduate and post graduate students to the event where topics will include: Food, poison or drug? What's in a Latin name? Where in the World? and Record breakers.
The role of Paxman is being taken by TV celebrity ethno-botanist James Wong.
Professor John Warren commented: "I am quietly confident that Aberystwyth University stands a very real chance of being crowned champions of the first ever UK Botanical University Challenge. The fact we are able to enter such a strong team is a reflection of the quality of the students we have in IBERS."
The event will take place at 2pm Thursday 10th March 2016 at the Jodrell Lecture Theatre, Kew Gardens.
If you are interested in becoming a Botanist and to find out more about IBERS' Plant Biology Degree Scheme, follow this link.
AU7516