Pride in our History: Celebrating and supporting our LGBT+ students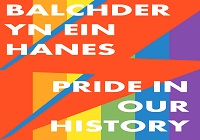 The Pride in our History logo
To celebrate and support our LGBT+ students, the University along with AberPride is hosting a special event, 'Pride in our History' at Aberystwyth Arts Centre on Thursday 25 February.
This event will mark the end of the 'Pride in Our History Campaign' run by the society that gives LGBT+ students a voice.
The 'Pride in Our History' campaign seeks to celebrate all things LGBT+ and highlight iconic figures within the community.
Fundraising (co-ordinated by the Development and Alumni Relations Office) from the event will ensure that AberPride is able to sustain a welcoming environment at Aberystwyth for LGBT+ students, running campaigns, events and representation up to a national level.
Louise Jagger, Director of the Development and Alumni Relations Office said,
"The evening promises to be lively, welcoming and full of fun, including a special tribute set to the late LGBT+ icon, David Bowie, an auction of works submitted for the campaign and plenty of reason to have a dance and celebrate. When I first heard the news of David Bowie's death I felt such sadness, so many people felt liberated through his music and I know how much of an icon he was to the LGBT+ Community.
"I hope a tribute to him in Aberystwyth, where he played twice before, will inspire the support of our staff, students and alumni from all over."
More information for the event can be found here: https://www.aberystwythartscentre.co.uk/music/pride-our-history-balchder-yn-ein-hanes