ACCA approves more professional exemptions for Aberystwyth accountancy graduates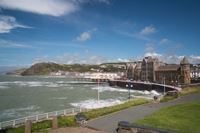 Accountancy graduates from Aberystwyth University will be eligible for a greater number of ACCA (Association of Chartered Certified Accountants) professional exam exemptions from this summer.
Aberystwyth students who wish to prepare for qualified accountant status will now be eligible for up to 7 ACCA professional exam exemptions, one more than previously.
The development comes after the renewal of ACCA accreditation of the School of Management and Business' BSc Accountancy and Finance degree (N400) for another 5 years, until 31 December 2020.
And for the first time, students on the BSc Business Finance (N310) degree programme will also be eligible for up to 6 ACCA exemptions.
Students who choose to combine their study of accountancy with other subjects in the arts, humanities or sciences will also be eligible for ACCA exemptions, depending on their choice of modules.
Professor Mike Christie, Head of the School of Management and Business said: "We are delighted with the outcome of the ACCA accreditation process which underlines the quality of teaching here at Aberystwyth University and which will be hugely beneficial for our graduates.
"The ACCA is generally considered to be the most significant of the accounting bodies globally, and its qualifications are recognised around the world. This new accreditation confirms that we are clearly very focused on preparing our students for entry into the accounting profession, and these fundamental level exemptions give them a substantial head start when they graduate."
"Fundamental level professional exams with the ACCA can typically take two years to complete. With these exemptions, our graduates will quickly be able to step on to the next level."
Both the BSc Accountancy and Finance and BSc Business Finance degrees are three year programmes with the option of a year working in industry between the second and third years.
Professor Christie added: "We would certainly encourage our students to make the most of the opportunity of working in industry for a year. Our experience increasingly shows that students who take this option benefit in terms of their development and the employability prospects."
The ACCA accreditation also applies to Aberystwyth University students studying at the Mauritius Branch Campus.
The School of Management and Business at Aberystwyth University is accredited by the major accounting bodies, including: The Institute of Chartered Accountants England & Wales (ICAEW), the Chartered Institute of Management Accountants (CIMA), the Chartered Institute of Public Finance and Accountancy (CIPFA) and the Association of Chartered Certified Accountants (ACCA).
AU3916