Antarctic glacier named after Aberystwyth glaciologist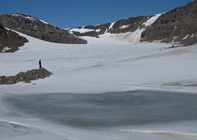 Professor Neil Glasser standing on "Unnamed Glacier" (now Glasser Glacier), James Ross Island, Antarctica in 2011. Photo credit: Dr Bethan Davies
An Antarctic glacier has been named after Aberystwyth University glaciologist.
Glasser Glacier has been named after Professor Neil Glasser, from the Department of Geography and Earth Sciences at Aberystwyth University, and Director of the University's Institute of Geography, History, Politics and Psychology.
Measuring around 1500 metres long and 500 metres wide, Glasser Glacier is located on James Ross Island and flows westward from a large ice dome on Lachman Crags.
This is the second Antarctic geological feature to be named after an Aberystwyth academic. Hambrey Cliffs, also on James Ross Island, have been named after Professor Mike Hambrey, former director of the Centre of Glaciology at Aberystwyth and Polar Medal winner.
The naming of the glacier has been made by the Antarctic Place-Names Committee, "in recognition of his [Professor Glasser's] significant research on Ulu Peninsula, James Ross Island and wider contributions to Antarctic and polar science".
The new name will be added to the British Antarctic Territory Gazetteer and is available for use on all maps and charts and in all publications.
Professor Glasser said of the decision: "I am really honoured to have this glacier named after me. We spent 7 weeks on fieldwork in this area of Antarctica in 2011. On all our maps and publications it is called 'Un-named Glacier' but it is great to know that from now on it will be known as Glasser Glacier!"
AU2216