Aberystwyth amongst the top 200 most international universities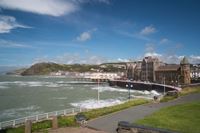 Figures published today (Thursday 14 January 2016) by the Times Higher Education World University Rankings reveal that Aberystwyth University is amongst the top 200 most international universities in the world.
Aberystwyth University is ranked 162nd for 'international outlook' according to the THE World University Rankings which considered the performance of 800 of the world's top institutions.
Aberystwyth University saw an improvement in its performance against the 'international outlook' indicator, scoring 72.2 compared with 66.5 in 2014/15.
Professor John Grattan, Pro Vice-Chancellor for Student Experience and International commented: "Aberystwyth University has a long and distinguished record for welcoming international students, which is reflected in the excellent result of this latest information published by the Times Higher Education. More than 90 nationalities are represented on campus at any one time, offering our international students and those from Wales and the other countries of the United Kingdom a remarkably diverse and cosmopolitan experience."
In October 2015 Aberystwyth University opened its new Mauritius Branch Campus providing Tertiary Education Commission accredited undergraduate degrees in Accounting and Finance, Business, Computer Science and Law.
"Our international outlook is reflected in our ambition to develop the branch campus in Mauritius, to serve the needs of students in African, Asia and around the globe. This development sits squarely with our strategic aims of 'Creating opportunities' and 'Engaging the world' by 'pursuing collaboration nationally and globally' and offers an excellent example of how we can enable those who value the quality of a UK degree to study at a regional hub or partner institution in a way that is affordable and accessible to them."
Aberystwyth University climbs 50 places
The full Times Higher Education World University Rankings 2015-16, published in September 2015, saw Aberystwyth University climb 50 places into the top 350 institutions worldwide, and into the top 40 UK institutions featured.
The 2015-16 rankings also underlined Aberystwyth's excellent research record. Applying the 'citations' criteria – research influence - Aberystwyth was ranked 260th out of the world's top 800 institutions featured - a15 point increase on 2014/15.
Phil Baty, Editor of the THE World University Rankings commented: "An institution's global outlook is one of the key markers of a prestigious university. The top institutions hire faculty from all over the world, attract students from a global market of top talent and collaborate with leading departments wherever they happen to be based.
It is great news for all the institutions in the list of the most international universities in the world. It is a sign of great potential, competitiveness and dynamism."
AU0916