Professor John Grattan appointed Acting Vice-Chancellor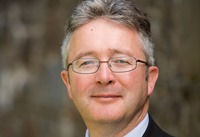 Professor John Grattan
Professor John Grattan has been appointed Acting Vice-Chancellor for Aberystwyth University following an internal recruitment process.
Currently Pro Vice-Chancellor for Student Experience and International, Professor Grattan will assume the role of Acting Vice-Chancellor from the 1st of February.
Professor Grattan's appointment follows the announcement by Vice-Chancellor Professor April McMahon in December 2015 that she wished to step down as Vice-Chancellor at the end of her five-year term of office on 31 July 2016. Between 1 February and 31 July, Professor McMahon will be focusing on externally-facing aspects of the Vice-Chancellor role.
A graduate of the University of Manchester (Geography and Archaeology), Professor Grattan gained a PhD from the University of Sheffield where he studied the impact of Icelandic volcanic eruptions on ancient settlements of northern and western Britain.
He joined Aberystwyth University as lecturer in 1995, and has since held a number of key internal leadership roles, including Dean of the Faculty of Science, prior to being appointed Pro Vice-Chancellor in 2012.
Professor Grattan is currently Chair of Universities Wales Learning and Teaching Action Group, board member of the Quality Assurance Agency, National Representative on the Higher Education Public Information Strategy Group, and a member of SAGE – Scientific Advice to Government in Emergencies.
During 2015 he was appointed to the UK Government's Teaching Excellence Framework Design and Implementation Expert Advisory Group, the Higher Education Funding Council for Wales Student Outcomes and Achievement Committee, and to the board of Global Wales.
Sir Emyr Jones Parry, Chancellor and Chair of Aberystwyth University's Council said: "I welcome the University Council's appointment of Professor Grattan to the role of Acting Vice-Chancellor, and the Council looks forward to working with him."
Professor John Grattan said: "It is a privilege to be appointed to the role of Acting Vice-Chancellor for Aberystwyth University and I look forward to working with Vice-Chancellor Professor April McMahon over the coming months to build on the excellent work that has been done during her time here.
"Aberystwyth University is investing over £100m in new research and teaching facilities, and student residences, work that is critical for the future success of the University and the local economy. The University is recognised internationally for the quality of its teaching and research, and for the student experience, and 2016 will be a year for building on these in what is an increasingly competitive recruitment market."
Professor Grattan will fulfil the role of Acting Vice-Chancellor until a new Vice-Chancellor assumes office. An external recruitment process to appoint to this role will commence in due course.
AU0616