Aberystwyth University's Mauritius Branch Campus welcomes first students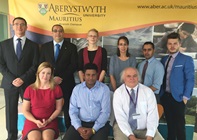 Members of teaching and administrative staff at the Aberystwyth University Mauritius Branch Campus
Aberystwyth University's Mauritius Branch Campus has welcomed its first students, as teaching gets under way.
The Mauritius Branch Campus offers undergraduate courses in Computer Science, Business, Accounting and Finance, and Law, and a postgraduate Masters degree in International Business.
All courses have been accredited by the Mauritius Tertiary Education Commission.
Students at the University's Mauritius campus enjoy the same status as their counterparts at Aberystwyth and will receive Aberystwyth University degrees on completion of their studies.
There will also be scope in the future for students at Aberystwyth who want to spend time at the Mauritius campus to do so.
By establishing a branch campus in Mauritius, Aberystwyth University becomes the highest-ranking overseas University to operate in the country.
Vice-Chancellor Professor April McMahon said: "The Government of Mauritius has ambitious plans to establish the country as an international knowledge hub and attract 100,000 students to study there over the next 10 years. At Aberystwyth University we are delighted to be playing our part in realising this vision."
"This development sits squarely with our strategic aims of 'Creating opportunities' and 'Engaging the world' by 'pursuing collaboration nationally and globally'. The Aberystwyth University Mauritius campus offers an excellent example of how we can enable those who value the quality of a UK degree to study at a regional hub or partner institution in a way that is affordable and accessible to them."
Dr David Poyton, Dean of Aberystwyth University Mauritius Branch Campus said: "This week has been a major milestone for everyone involved with the development of the new Aberystwyth campus here in Mauritius. The response from our first cohort of students has been excellent and I would like to thank everyone who has worked so hard to make this all possible. Aberystwyth University opened its doors for the first time in October 1872 and has developed into major seat of learning, attracting students from over 90 countries world-wide. We look forward to emulating this success here in Mauritius."
AU33015