The Law in Wales – making it clearer, more modern and easier to use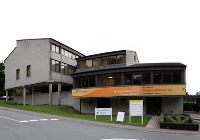 The Elystan Morgan Building
As part of the Law Commission's consultation to improve the form and accessibility of law in Wales, the Department of Law and Criminology is hosting an event tomorrow, Thursday 24 September at 5.30pm in the Elystan Morgan building on the Llanbadarn campus.
With the growth of bilingual Welsh Law in devolved areas, it is becoming increasingly difficult for lawyers, other advice providers, and the public to find it and to understand it.
Sometimes the law on one subject (for example, child law and education law) is to be found across a number of different pieces of legislation – some from the National Assembly and some from the Westminster Parliament. This can be very confusing.
In addition to discussing bilingualism, the consultation paper deals with codification and consolidation, accessibility of Welsh Law, drafting, and the interpretation of devolved law.
Professor John Williams, Head of Department of Law and Criminology said: "This is an opportunity have your say on the future shape of law in Wales. The Commission is particularly interested in the views of practitioners, other advice givers particularly in the third sector, academics and members of the public throughout Wales and not just the large conurbations. This is a great opportunity for Ceredigion to have its say."
Sir David Lloyd Jones, Chairman of the Law Commission, said: "For the law to be fair it must be capable of being understood. We are at a crucial moment in the development of the law relating to Wales. We have an excellent opportunity to pave the way for clearer, simpler, more modern and more accessible legislation, that is easily and freely available, and readily understood by professionals and the public.
"As the Welsh Assembly gains wider law-making powers, this is the time for us to consider carefully how the Government and the legal system can work together to make good law for Wales."
AU31715