Aberystwyth finalist for RCUK/PraxisUnico 2015 Impact Awards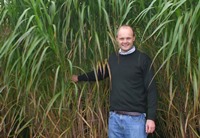 Dr John Clifton-Brown standing next to some Miscanthus plants (Asian elephant grass)
Aberystwyth University has been shortlisted for the RCUK/PraxisUnico 2015 Impact Awards for Knowledge Exchange and Commercialisation professionals which take place in London on Tuesday 15 September.
Aberystwyth is one of three finalists for the Contribution to Society award, and is recognised for its "fair and equitable use of Miscanthus (elephant grass) genetic resources in the energy sector through international treaty and influence on UK and EU policymaking".
The other finalists in the Contribution to Society category are Public Health England for "Knowledge exchange on the frontline: responding to the Ebola outbreak" and the University of Strathclyde for "Portable Eye Examination Kit (PEEK)".
The Impact Awards reward and recognise knowledge exchange, technology transfer and commercialisation professionals who have excelled in enabling and facilitating the achievement of impact from the outcomes of research.
Miscanthus is recognised as an energy crop which grows on land that is not suitable for food production, and potentially a valuable source of low carbon electricity.
Over more than 10 years, scientists at Aberystwyth University's Institute of Biological, Environmental and Rural Sciences (IBERS) have collected one of the world's largest collections of genetically diverse Miscanthus outside Asia and used this to build a crop improvement programme for UK and Europe.
The Impact Awards nomination recognises the work of IBERS scientists and colleagues at the University's Research, Business and Innovation team for their work to promote international collaboration with research organisations in China, Taiwan, South Korea and companies Ceres Inc and Terravesta Ltd.
Dr Rhian Hayward, Business Development Manager at Aberystwyth University's Research, Business & Innovation said: "I am delighted that Aberystwyth University has been recognised for its efforts in Knowledge Exchange and Commercialisation. The Miscanthus work is an example of a number of plant breeding programmes run from IBERS that have strong translational elements and long standing engagement with industry. Awards of this kind for KEC professionals are essential to highlight the important work required to apply university knowledge into current global challenges."
Dr John Clifton-Brown, IBERS researcher and a core member of the Knowledge Exchange and Commercialisation work on Miscanthus, said: "To tackle global challenges such as climate change requires collaboration between academic and industrial partners and across international boundaries. We had an enormous amount of support from Defra and BBSRC in this process, and the result is a high yielding biomass crop that together with industrial partners, we hope to commercialise within the next 5 years. The shortlisting for the award is a fantastic recognition for all those involved in the building of these collaborations and making them work."
Established to highlight the valuable work and the vital contributions of KEC teams in turning excellent research into tangible, real-world benefits, The Impact Awards recognise this outstanding work in three categories; Contribution to Business, Contribution to Society and Outstanding KEC initiative. An overall winner will also be selected from the winners of each category.
Jackie Hunter, RCUK Impact Champion, said: "It is wonderful that the teams and individuals whowork in knowledge exchange and commercialisation are to be honoured for their essential contribution to research. RCUK have always emphasised the importance of KEC to a healthy research community and will continue to provide our support in this area. Well done to all those nominated and good luck for the awards ceremony."
Sue O'Hare, Chair at PraxisUnico, said: "Many congratulations to the shortlisted entrants and I look forward to the Impact Awards final in September. The standard of entries has been extremely high this year, demonstrating that these are not isolated examples of outstanding knowledge exchange and commercialisation; rather they are typical of activities that are taking place every day in universities and public sector research establishments around the UK and beyond - it is a great and exciting time to be part of the innovation industry."