Aberystwyth is the safest University in Wales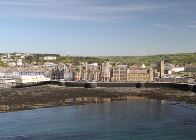 Aberystwyth University
Aberystwyth University has the lowest incidence of student-relevant crime in Wales according to The Complete University Guide 2015 which is published today, Monday 7 September.
Aberystwyth is amongst the 10 safest locations to study in England and Wales, with the lowest and second lowest rates for robbery and burglary respectively.
The Complete University Guide uses official police data to create a picture of crime rates at higher education organizations and their surrounding areas.
The report considers three crimes which are considered most likely to affect students – burglary, robbery and violent crime (including sexual offences) – within three miles of the main campus.
Professor John Grattan, Pro Vice-Chancellor Student Experience and International, said: "I am very pleased that Aberystwyth University has maintained its place as the safest university in Wales. Feedback from our students shows that the close and safe community is one of the main factors which attracted them to study here at Aberystwyth. The findings of the report are a source of pride for us because they reflect the close bond between the University and the local community."
AU29415