Dr Debra Croft appointed Director of Equality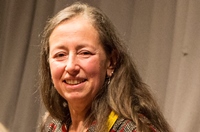 Dr Debra Croft
Dr Debra Croft has been appointed Director of Equality at Aberystwyth University. She will hold the post alongside her role as Manager of the Centre for Widening Participation and Social Inclusion.
Working alongside the University Executive Group, Dr Croft will be responsible for developing, publicising and assuring the University's strategic direction in equality and for ensuring outcomes are monitored and delivered successfully.
Speaking of her appointment, Dr Croft said; "I am pleased and excited to have this opportunity to undertake the role of Director of Equality at Aberystwyth, and re-shape the Centre for Widening Participation to encompass this wider agenda.
"There is an increasing emphasis across the UK Higher Education sector on this important agenda – beyond gender and disability: embracing all aspects of equality. National government and bodies such as Research Council UK, recognise the importance of equality of opportunity and diversity as central to higher education, especially at a time of rapid change.
"Having worked at Aber University for ten years, I value our community in its widest definition. This new role will provide opportunities for me to work with students and staff in all departments: academic, outward-facing and backroom service areas, to further develop our equality framework and practice, as a central plank of the University's future."
Professor April McMahon, Vice-Chancellor of Aberystwyth University said: "I am delighted that Debra will be leading the equality agenda across the university, and congratulate her warmly on her appointment.
"Working closely with Institute and Professional Services teams; the Students' Union; groups such as the University's LGBT network, Feminist Society, and Disability Access group; and with Stonewall and the Equality Challenge Unit, Debra will work to build on our achievements and drive forward the next stage of the development of the University's equality strategy.
"As Manager of the University's Centre for Widening Participation and Social Inclusion, Debra brings to the role a wealth of experience and knowledge of the barriers that exist for many people in accessing learning and employment and the impact we can all make to redress inequality."
Dr Croft is a graduate of the University of London (Geology / Environmental Science), completed an MSc in Mining Geology at Exeter University, and a PhD in Forensic Geoscience from London.
She has completed a post graduate certificate, Teaching and Learning in Higher Education, with the Open University, and is a Fellow of the Higher Education Academy.
Dr Croft takes up her new role on the 21st of September 2015.
AU27815