The Honourable Julia Gillard to be honoured as Fellow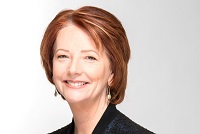 The Honourable Julia Gillard
The Honourable Julia Gillard, the 27th Prime Minister of Australia, will be conferred with a Fellowship of Aberystwyth University on 30 June 2015.
Ms Gillard will deliver a public lecture "A Conversation with Julia Gillard: Education and Our Future" at the A12 lecture theatre in the Hugh Owen building on the Penglais campus, starting at 6.30pm.
Following the lecture Ms Gillard will be conferred as a Fellow of Aberystwyth University, in recognition of her significant contribution to political life.
Honorary Fellowships are awarded to honour individuals who have, or have had a connection with Aberystwyth or Wales in general, and who have made an outstanding contribution to their chosen field.
Professor April McMahon, Aberystwyth University Vice-Chancellor said: "I am delighted to welcome Julia Gillard to Aberystwyth, the University, and our distinguished community of Fellows. I look forward to hearing of her experiences and successes as Prime Minister of Australia, and encourage anyone with an interest in the global political landscape and the future of education to attend this event."
Ms Gillard, who was born in Barry, South Wales was sworn in as the 27th Prime Minister of Australia on 24 June 2010 and served in that office until June 2013.
As Prime Minister and in her previous role as Deputy Prime Minister, Ms Gillard was central to the successful management of Australia's economy, the 12th biggest economy in the world, during the Global Financial Crisis and as Australia positioned itself to seize the benefits of Asia's rise. Ms Gillard developed Australia's guiding policy paper, Australia in the Asian Century.
Ms Gillard delivered nation-changing policies including reforming Australia education at every level from early childhood to university education, creating an emissions trading scheme, improving the provision and sustainability of health care, aged care and dental care, commencing the nation's first ever national scheme to care for people with disabilities and restructuring the telecommunications sector as well as advancing a national broadband network.
In foreign policy, Ms Gillard strengthened Australia's alliance with the United States, secured stronger architecture for the relationship with China, upgraded Australia's ties with India, and deepened ties with Japan, Indonesia and South Korea. Ms Gillard has represented Australia at the G20, including winning Australia's right to host the 2014 meeting, the East Asia Summit, APEC, NATO-ISAF and chaired CHOGM. Under Ms Gillard's leadership, Australia was elected to serve on the United Nations Security Council.
Ms Gillard is the first woman to ever serve as Australia's Prime Minister or Deputy Prime Minister. In October 2012, Ms Gillard received worldwide attention for her speech in Parliament on the treatment of women in professional and public life.
Ms Gillard is a Distinguished Fellow with the Center for Universal Education at the Brookings Institution in Washington. In February 2014, Ms Gillard was appointed chair of the Global Partnership for Education, a leading organisation dedicated to expanding access and quality education worldwide.
In February 2015, Ms Gillard was appointed Chancellor of Dūcere, Australia's leading education provider for business and management courses from Diploma levels through to a world's first MBA program. Ms Gillard also serves as an Honorary Professor at the University of Adelaide, and is Patron of the John Curtin Prime Ministerial Library in Perth, Western Australia. Ms Gillard is a member of the board of directors of Beyond Blue, which is committed to helping Australians understand and manage anxiety and depression.
Ms Gillard's memoirs, My Story, were published by Random House in September 2014.
This lecture and the Fellowship Conferral are open to the public, and there will be a drinks reception in advance of the event. The University warmly welcomes students, staff, and friends from the community, and we look forward to a popular and well-attended event. Members of the public wishing to attend are asked to book their free place online at: http://www.aber.ac.uk/en/events/lectures/julia-gillard/booking/
AU20915