Language/Voice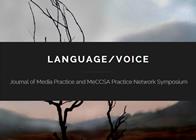 Aberystwyth University's Department of Theatre Film and Television Studies will host a one-day Symposium on Saturday 13 June 2015.
The Language/Voice Symposium is organised by the Film, Television and Media Research Group, with the support of the Journal of Media Practice and MeCCSA Practice Network.
Held at Aberystwyth Arts Centre, the Symposium will bring together researchers and practitioners to discuss and debate current issues in practice-based research, practice-as-research, and theoretically-informed practice.
Guest speakers at the Symposium include the award-winning writer, director and producer, Ed Thomas, and the award-winning documentary maker Colin Thomas.
Dr Rebecca Edwards, one of the Symposium's coordinators, explains: "We look forward to welcoming participants from across the UK to the Symposium, to engage in dialogue and listen to expert presenters. Language and Voice are not meant literally of course, and we encourage both literal and formal explorations of the symposium theme - covering all aspects of the profession."
In addition to the presentations, the creative work of artists and practitioners will also be on display.
The Symposium is open to all, and details of how to book, and the full programme of events can be found at https://languagevoice.wordpress.com/