Aberystwyth University to host The Quantified Romantics for national humanities festival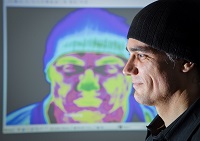 Aberystwyth University is hosting The Quantified Romantics, an event in Being Human 2015, the UK's only national festival of the humanities.
In an effort to measure if 200-year-old Gothic shockers really do raise pulses, event participants will be seated in a darkened area to view images of Gothic paintings and pages of Romantic novels while a package of biometric data is gathered (including heart rate and skin temperature) using wristbands.
The event has been made possible by a grant from the festival organisers, the School of Advanced Study, University of London.
Now in its second year, Being Human is supported by the Arts & Humanities Research Council (AHRC) and the British Academy (BA), with support from the Wellcome Trust.
Following a successful application, Aberystwyth University has been awarded funding to hold the event during the festival week, 12 – 22 November.
The Quantifed Romantics event will champion the excellence of humanities research being undertaken in mid-Wales and help to demonstrate the vitality and relevance of this today. Forty-one grants have been awarded to universities and cultural organisations across the UK to participate in Being Human.
The grant will help the university bring together researchers and local communities to engage with the humanities. The Quantified Romantics will be part of an 11 day national programme of big ideas, big debates and engaging activities for all ages. The festival will inform, extend and ignite contemporary thinking and imagination around the humanities.
Richard Marggraf Turley (English and Creative Writing), Aberystwyth University's Professor of Engagement with the Public Imagination, said: "If Mary Shelley, author of Frankenstein, or Dr Polidori, who penned the world's first vampire novel, could have tested their readers' "terror" reactions using biometric wearables, Reyer and I like to think they would have! This event demonstrates in pulse-raising ways how humanities research intersects with cutting-edge science".
Reyer Zwiggelaar, Professor of Computer Science, said: "The arts have always informed science and technology in innovative ways, and this public engagement event is the perfect opportunity to show the real-world relevance of interdisciplinary university research".
During the inaugural festival in 2014 over 60 universities and cultural organisations organised over 160 free events sharing the best and most challenging thinking in the humanities with audiences across the country. Extending beyond face-to-face interactions in the UK, the festival crossed borders on the web, reaching more than 2.2 million across Twitter and website visitors from around the globe.
The 2015 festival programme promises to be exciting, entertaining and thought-provoking, with something for everyone in our diverse communities.
AU18915