Business Start-up Week 2015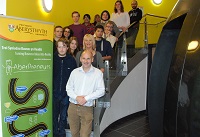 Participants of Business Start-up Week 2015 with Enterprise Manager, Tony Orme.
Business Start-up Week 2015 is taking place this week at Aberystwyth University.
Organised by the Department of Research, Business & Innovation, Business Start-up Week is a well-established feature in the programme of enterprise support offered at Aberystwyth University.
The week features a series of workshops and presentations, providing the information students, graduates, staff and others interested in start-up need to turn a good idea into a viable new business enterprise.
Run in an intensive "boot-camp" format, sessions will cover a wide range of subjects, including business planning; finance; marketing; networking and Intellectual Property protection.
Presentations on these business subjects, made by partners at local enterprise agency, Antur Teifi will be complemented by workshops with local business role models. The format of the week also encourages and facilitates networking between the budding entrepreneurs attending, providing an added benefit to taking part.
Aurelie Wibaux, who attended the event in 2014 said:"Business Start-up Week2014 was well run and very interesting. It covered a wide range of topics and helped me understand more about setting-up a business. I learnt a lot and all sessions were clear enough for me to understand even though I had no previous knowledge of business or management. I now have a better understanding of what to take into consideration and what to do to start up my own business in a few years."
Enterprise Manager Tony Orme said: "We are looking forward to hosting an inspirational and informative week, which offers flexibility for participants to benefit from attend the full programme of sessions, or to identify topics which are of particular interest to them".
Business Start-up Week is free of charge to participants and will be held in the Visualisation Centre on the Penglais Campus at Aberystwyth University.
Further information about the event can be found at: www.aber.ac.uk/aberpreneurs.