Aberystwyth shortlisted for ARMA award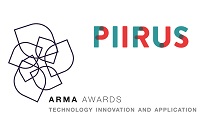 Aberystwyth University has been shortlisted for the Technology, Innovation and Application award in this year's Association of Research Managers and Administrators (ARMA) Awards.
Celebrating innovation and success in research management and administration, the ARMA awards are open to all UK higher education institutions and celebrate the best examples and successes in seven categories, including; technology & innovation, impact and collaboration within Universities.
Recognition for this award came as a result of the recently launched Online Research Ethics Assessment and Application Smart Form; ensuring research activities across the University achieve the highest standards of ethics and integrity, whilst reducing the administrative burden on our research colleagues. It has also been a useful tool developing the research skills of our staff and students alike.
Commenting on the shortlisting, Gary Reed, Director of Research, Business and Innovation at Aberystwyth University said: "In such a rapidly changing UK research environment, it is vital that we are committed to maintaining the University's internationally recognised research portfolio. An important aspect of this is ensuring that all ethical and professional standards within our research community are met at all times.
I am delighted that the efforts of colleagues, Mitchell Parker & Dr Jennifer Deaville, within Research, Business & Innovation and Alan Evans in Information Services have been recognised by the Association of Research Managers and Administrators Awards. I wish them every luck at the ARMA Conference in June!"
Winners of the awards will be revealed at the annual ARMA conference in Brighton on the 3rd June.