Aberystwyth Arts Centre host BP Portrait Award Exhibition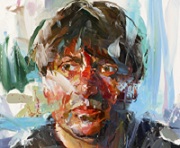 Simon Armitage by Paul Wright, 2013 © Paul Wright
Aberystwyth Arts Centre is currently hosting the prestigious National Portrait Gallery's BP Portrait Award exhibition.
This is the only venue in Wales exhibiting the award's work which offers informal and personal studies of friends and family, as well as revealing images of famous faces. It features a variety of styles and approaches to the contemporary painted portrait.
One of the 55 entries is Aberystwyth University graduate Edward Sutcliffe's 'Copycat'. Sutcliffe is the winner of the 2014 BP Travel Award, beating competition from 2376 other entries.
Also being shown are the National Portrait Gallery award prize winners pieces, including Thomas Ganter's 'Man with a Plaid Blanket', Richard Twose's 'Jean Woods', and BP Young Artist Award winner Ignacio Estudillo Pérez 'Mamá.
Eve Ropek, Exhibitions Officer said: "We're very pleased to show this prestigious exhibition again. This is the only showing in Wales and one of only three showings in the UK; it's the result of a strong relationship built up by the Arts Centre with the National Portrait Gallery (alongside other national organisations) over some years, one which we hope to continue."
The exhibition is currently on display and finishes on 30th May.

AU15615