Europe crisis games success for Aberystwyth students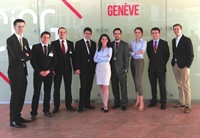 (Left to right): Cyber 9/12 team members Chris Dennett, Alain Bouwman, Nick Bruetsch, Sam Smales, Grant Alger, Maihanna Murphy, Andrew Gilbert and Ian Goertz with Dr Madeline Carr (Centre)
Two teams from the Department of International Politics at Aberystwyth University enjoyed outstanding success at the Cyber 9/12 crisis games which were held in Geneva on 22 and 23 April.
Undergraduate team members lain Bouwman, Christopher Dennett, Sam Smales and Nick Bruetsch won their way to final, only to lose out to a combined Swiss team from HEC Lausanne and ETH Zurich.
Postgraduate students Grant Alger, Maihanna Murphy, Andrew Gilbert, Ian Goertz reached the semi-finals.
As well as securing the runner up spot, Bouwman, Dennett, Smales and Bruetsch won the prize for the competition's 'Best Written Submission'.
Cyber 9/12 was organised by the Atlantic Council and was hosted by the Geneva Centre for Security Policy.
Alain Bouwman said: "It was one of the most challenging and stressful competitions we've taken part in. Presenting your policy recommendations in front of a panel of Cyber Security experts and competing against other top universities, really did put the pressure on. Aberystwyth can be proud! We couldn't have achieved this without the excellent coaching and support from Madeline Carr!"
Dr Madeline Carr who accompanied the students to the competition said: "I expected our teams to do well - they had worked incredibly hard in the months leading up to the competition. But it was thrilling to see them perform so well against really tough competition. I've had numerous emails from different judges this week commenting on how impressed they were with the Aber teams. Amazing outcome!
"There is a growing demand for creative, smart people in cyber security policy and we put together two of the best teams in Europe. They all have big futures ahead of them."
Photo (Left to right): Chris Dennett, Alain Bouwman, Nick Bruetsch, Sam Smales, Dr Madeline Carr, Grant Alger, Maihanna Murphy, Andrew Gilbert and Ian Goertz.
AU14715