Celebrating contribution of long serving staff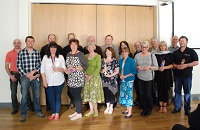 Members of Aberystwyth University staff at the Long Service Awards with Vice-Chancellor, Professor April McMahon.
Aberystwyth University celebrated the contribution of long serving members of staff at a Long Services Awards evening held recently.
Now in its third year, the Long Service Awards provide an opportunity to thank members of staff who have worked for the University for 20, 25, 30 and 40 years.
Amongst the members of University staff collecting their long service awards this year were husband and wife, Bryn and Rachel Hubbard, both of whom have worked for the University for 20 years.
Bryn Hubbard is the Director of Research and Director of the Centre for Glaciology at the Department of Geography and Earth Sciences, and Rachel is Membership Manager at the University's Sports Centre.
Commenting on the award, Rachel said: "Working for the University has been a great pleasure. I have met and worked with some wonderful people and have found each day to be different - whether in the Sports Centre planning the future, or teaching session or working with HR on separate projects. I have had the opportunity to sit on Council and see the "big picture" as well as working with Staff Support Network understanding some of the difficulties at a personal level. I have met some fab students and seen them in classes over their time here at Aber and understand how sport and exercise provides body and soul support. Twenty years have gone by quickly – which says it all really."
Professor April McMahon, Aberystwyth University's Vice-Chancellor said: "The awards provide the University with the opportunity to thank our staff for the many years of service given to the University. We are very fortunate at Aberystwyth to have so many dedicated members of staff who have worked with the University for substantial periods of time. Their contribution is invaluable, and truly appreciated."
In recognition of their long-service, staff were presented with a love spoon to mark their contribution and time at the University at the event which was held on 21st April.
AU15415