Aberystwyth marketing students pitch their way to success at the Senedd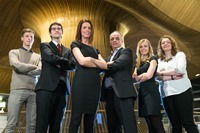 Team Aberystwyth University with Brolio/The Pitch judges (L-R) Marc Diaper, judge Meilyr Caredig, judge Jade Tambini, judge Adam Butcher, Sophie Killer, Freya Boissonade
A team of students from Aberystwyth University impressed a panel of Wales' leading marketers yesterday (10 February) to be crowned champions of this year's Brolio/The Pitch competition, organised by CIM (The Chartered Institute of Marketing).
Freya Boissonade and Marc Diaper who are studying Marketing, and Sophie who is studying Marketing with French travelled to the Senedd and competed against some of Wales' top creative talents to win the national competition.
Professor Steve McGuire, Director of the School of Management and Business congratulated the team on their efforts: "For the second year running, Aberystwyth students have won the Brolio – against excellent competition. Freya, Marc and Sophie have demonstrated creativity, initiative and the ability to work to a brief. They are a credit to the School of Management and Business and Aberystwyth University. I also wish to acknowledge the contribution of Julie McKeown and Ian Harris, two colleagues who mentored these, and other, Marketing students. Well done all!
Brolio/The Pitch is supported by the Welsh Government as part of its Youth Entrepreneurship Strategy (YES) Action plan 2010-15 to encourage youth entrepreneurship.
This year's Brolio/The Pitch saw 9 teams of students from universities and colleges across the country tasked with developing a marketing strategy for real-life client Superfast Cymru, the Welsh Government and BT partnership working to roll our super-fast fibre broadband across Wales by 2016.
After receiving a detailed brief, students were asked to consider budgets, audiences, communication tools and evaluation, to give them an understanding of an authentic business scenario.
Team Aberystwyth University's concept proposed using adverts to highlight the nuisance of waiting for a video to buffer during the moment when it will be felt the most, by placing them on catch-up TV platforms like ITV Player.
Following a tense round of pitches and quick-fire Q&A, three teams were invited to re-pitch their proposals at the evening final.
Edwina Hart, Minister for Business, Enterprise, Technology & Science, then announced Aberystwyth University as the overall winners, and presented team members Sophie Killer, Freya Boissonade and Marc Diaper with their prize.
Congratulating the winning team, the Minister said: "Competitions like Brolio/The Pitch are helping to encourage and foster a strong spirit of entrepreneurship amongst students and providing them with a greater understanding of the different elements needed to run a successful business.
"The Welsh Government is committed to encouraging entrepreneurship and I believe this sort of activity can help develop a real appetite amongst our students to seriously consider starting their own business."
Team Aberystwyth University member Marc Diaper, 22, said: "Taking part in Brolio/The Pitch has been an amazing experience for all of us, and will hopefully act as a stepping stone to landing that all-important first job in marketing.
"Working from a real-life brief was an opportunity to gain some really useful practical experience that I'm sure each of us will be able to apply in our future careers.
"I would encourage other business and marketing students to enter next year's competition – it's a great addition to your CV and a chance to experience the ups and downs of pitching first-hand."
Richard Houdmont, CIM's Director for Wales, said: "Brolio/ThePitch is designed to give students a real understanding of the process of interpreting a brief, pitching to clients and winning business.
"The standard at this year's competition was very high. Team Aberystwyth University combined creativity, strategic thinking and financial expertise to produce a really exciting proposal.
"In such a tough job market, practical experience like this can be invaluable for students, giving them the chance to use their skills in a real business context."
Judges included Meilyr Ceredig, Managing Director at FBA, Jade Tambini, European Marketing Manager at DS Smith, and Adam Butcher, Head of Policy and Communications at Superfast Cymru – the organisation that delivered the brief.
Judge, Jade Tambini, added: "Brolio/The Pitch is a brilliant opportunity for students to practice their marketing skills and gain hands on experience from a real marketing brief.
"Team Aberystwyth University really impressed us with not only a well-presented and engaging pitch, but with a proposal that really addressed the aims and challenges set out in the brief.
"The team had clearly put a lot of time and effort in to their pitch! We enjoyed a very strong creative proposition backed up by realistic and measurable marketing tactics all within budget. This was a winning mix because all too often we see great creative ideas get overlooked because they aren't practical when it comes to execution."
"Team Aberystwyth University showed real passion and were deserving winners of this year's competition. I am sure they will have colourful marketing careers ahead of them!"
As part of their prize, each member of Team Aberystwyth University have received a year's affiliate membership of CIM, along with an invite to this year's Canmol: Wales Marketing Awards ceremony in October.
AU6115