US Fulbright Scholar sheds light on Welsh manuscript Y Llyfr Teg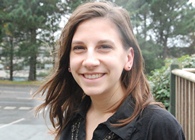 Jacqueline Marie Burek
Jacqueline Marie Burek, a US-UK Fulbright Scholar originally from New Jersey, will hold a talk tomorrow (Tuesday 25 November) about her research on Y Llyfr Teg, a medieval Welsh manuscript of the Laws of Hywel Dda and other texts which dates back to around 1400.
Jacqueline is one of around 35 US students to have been sponsored this academic year to study in the UK as part of the Fulbright Scholar Awards Programme.
The programme, which this year sees the biggest cohort to date, is designed for academics and professionals to lecture, study or conduct research in the UK.
Jacqueline's talk, which takes place at Hugh Owen Library from 5.15pm, and research looks at the relationships between the many texts of Y Llyfr Teg (Peniarth MS 32) which contains Welsh religious and secular prose as well as one chronicle written in Latin.
Her PhD concentrates on the work of three 12th century historians - William of Malmesbury, Henry of Huntingdon and Geoffrey of Monmouth – all of whom wrote in Latin.
The University of Pennsylvania student explains; "My research aims to understand why these three historians were so popular in the Middle Ages and how people in medieval Wales used their work to write their own work, in Latin and in their own language.
"Linguistic boundaries were a lot more fluid during this time compared to what they are today."
Jacqueline wanted to study at Aberystwyth because of the Welsh language, the prestigious reputation of the Department of Welsh and the proximity of the National Library of Wales.
The 27-year-old is also continuing her study of the Welsh language.
She adds; "Welsh is an amazing language. I hear the Welsh language all the time on campus and I regularly practice speaking with friends and colleagues. Having the National Library as well as the sea on the doorstep is also a big bonus and I'm extremely happy here."
In her spare time, Jacqueline has joined the Penparcau Community Forum's History and Heritage Group and carries out research work on behalf of the group.
The Fulbright Commission also offers the Fulbright Commission Wales Summer Institute which sees US students visit Wales for six-weeks over the summer holidays.
Now in its fourth year, it is a cultural and academic programme specifically for US students and held at three internationally renowned Welsh universities: Aberystwyth, Bangor and Cardiff University.
The Fulbright Commission has been promoting peace and cultural understanding through educational scholarships for more than 60 years.
AU49914