Fferm Penglais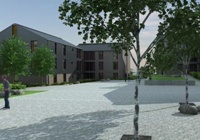 Fferm Penglais
On Wednesday 19 November Balfour Beatty confirmed to the University that the work to complete the initial phase of Fferm Penglais is now intended to enable students to move in immediately after their January exams.
The University is disappointed that Balfour Beatty has not been able to meet their original deadlines for delivering Fferm Penglais and the revised deadline put forward by them at the beginning of August.
The University is committed to ensuring that the accommodation provided at Fferm Penglais is of the highest possible standard, and has not compromised on the quality in order to ensure the quickest delivery date.
The University proposes that, in order to minimise impact on students' studies and exams, students move to Fferm Penglais at the end of the exam period, between 21 and 25 January 2015.
The University will be assisting students with their move from their current University accommodation to the new Fferm Penglais residences. This will be at no cost to students or the University.
In a statement provided by Balfour Beatty, the company has apologised for the delay and their inability to meet their own deadline of completing phase 1 by the end of October. The statement reads: "Balfour Beatty is sorry for the delay in moving in but assures you that we have worked to deliver a high standard of quality at Fferm Penglais and hope that you will be delighted with your new accommodation."
The University informed the students who have expressed a wish to move into Fferm Penglais of the revised schedule by e-mail on Friday 21 November.
The University is confident that the accommodation provided at Fferm Penglais will be amongst the best available at any University in the UK.
AU50914