Aberystwyth launch Green Impact scheme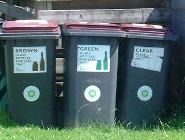 Recycling bins at Aberystwyth University
Aberystwyth University is urging its staff to take part in the Green Impact scheme, an environmental accreditation programme and awards scheme run by the National Union of Students.
The scheme aims to promote environmental awareness and sustainability amongst staff and give them the opportunity to proactively make a positive difference in their workplace.
The Environmental Graduate Trainee at Aberystwyth University, Christopher Woodfield, explains, "Green Impact supports teams and departments to make simple, tangible and powerful changes in behaviour and policy when it comes to the environment and sustainability.
"From recycling, to investing in more efficient equipment, to encouraging biodiversity, or Fairtrade, the various criteria cover a broad range of issues under the sustainability umbrella.
"We would love to see as many people as possible participate from all departments. This is to enable the University to successfully and creatively tackle the exciting and challenging opportunity of a sustainable future."
Green Impact follows a simple but effective cycle, focusing on providing simple actions, supporting people to make the changes and rewarding them for their efforts.
Staff can sign-up to Green Impact via www.greenimpact.org.uk/Aberystwyth and fill in a workbook online.
For more information contact Christopher Woodfield on sustainability@aber.ac.uk or visit the new sustainability webpages.
AU48914