University takes part in Global Entrepreneurship Week 2014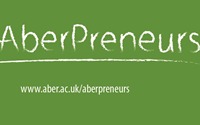 Aber's enterprise initiative AberPreneurs
Aberystwyth University is taking part in Global Entrepreneurship Week 2014 from 17-21 November, the world's largest campaign to promote entrepreneurship.
Each year, the event plays a critical role in encouraging the next generation of entrepreneurs to consider starting up their own business or social enterprise.
Aberystwyth University's Department of Research, Business and Innovation will be holding activities such as marketing, market research, finance and intellectual property (IP) protection masterclasses throughout the week and into December (full list below).
These events are open to anyone with an interest in turning a business idea into reality.
Tony Orme, Enterprise Manager, Department of Research, Business & Innovation, explains, "We've created an enterprise brand called AberPreneurs at the University highlighting the support, advice and opportunities for those with an interest in starting a business."
"AberPreneurs offers a year round programme of inspirational talks, enterprise events, mentoring, competitions, networking opportunities and funding advice.
"During and after Global Entrepreneurship Week, AberPreneurs will be coordinating and managing the masterclasses and will also be showcasing the range of support offered by the University and its partners, Antur Teifi and Menter a Busnes."
The AberPreneurs team will also be based at the Student Union on Tuesday 18 November and BlasPadarn on Llanbadarn Campus on Friday 21 November between 11am-3pm.
Further information on how to register for a masterclass can be found here. 
If you are keen to turn a business idea into reality, come along and meet the team or contact Tony Orme on aberpreneurs@aber.ac.uk 
Date

Event details

Venue

Thursday 20 November
14.15 – 17.15

Masterclass 1 – Market Research
The importance of market research for a new business

Visualisation Centre, Penglais Campus

Wednesday 26 November
14.15 – 17.15

Masterclass 2 – Marketing
How to develop a marketing strategy

Visualisation Centre, Penglais Campus

Wednesday 3 December
14.15 – 17.15

Masterclass 3 – Finance
The importance of financial planning and control

Visualisation Centre, Penglais Campus

Wednesday 10 December
14.15 – 17.15

Masterclass 4 – Intellectual Property
Identifying and protecting IP, including patents, copyright and trade marks

Visualisation Centre, Penglais Campus
AU49214