'Remember Humanity: Security Imperatives to Ban Nuclear Weapons'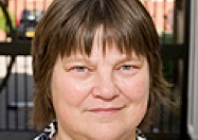 Dr Rebecca Johnson
Dr Rebecca Johnson will deliver the 2014 David Davies Memorial Institute (DDMI) Annual Lecture entitled 'Remember Humanity: Security Imperatives to Ban Nuclear Weapons'.
The lecture will take place in the Main Hall, International Politics Building on Thursday 13th November at 6pm.
Dr Johnson is the Vice-President of the Campaign for Nuclear Disarmament (CND), Executive Director of the Acronym Institute for Disarmament Diplomacy and is an internationally recognised expert on nuclear disarmament and non-proliferation with more than 30 years' experience in the field.
Her most recent book is Trident and International Law, co-edited with Angie Zelter, which looks at the relationship between the UK nuclear deterrent and International law.
The talk will focus on humanitarian aspects of banning nuclear weapons. Central to this argument is that any potential use of nuclear weapons would violate international humanitarian law.
An example often given is that the detonation of a nuclear bomb would violate the principle of proportionality, while also killing civilians indiscriminately.
The David Davies Memorial Institute forms part of the Department of International Politics at Aberystwyth University, and the annual lecture series is generously supported by the Gwendoline and Margaret Davies Charity.
AU49114