Dragons announced for Aber Does Dragons' Den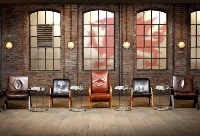 The Dragons' lair
Five prominent Aberystwyth business personalities will perform the roles of the 'Dragons' at the forthcoming recording of Aber Does Dragons' Den.
Aber Does Dragons' Den has been developed by Professor Brian Garrod from the School of Management and Business at Aberystwyth University.
Five teams of Year 12 and 13 pupils from the Penglais School in Aberystwyth will pitch their business ideas to the Dragons in front of the cameras on Friday 24th October.
The recordings will take place in the television studios at the University's Department of Theatre, Film and Television Studies.
And just like the BBC's Dragons' Den, which has proved to be so popular, the Dragons will be on hand to offer constructive criticism and advice to the teams and their business proposals.
The Dragons
Greg Dash
Greg Dash is a PhD student at Aberystwyth University. Greg made the headlines last year by designing and developing the world's first digital fisheye camera. Initially conceived as a way to pay off some of his student debt, he enjoyed considerable media coverage for his product, and was able to ship over a thousand units to customers around the globe.
Tony Bates
Tony Bates is co-founder of Aberystwyth-based law firm Morris & Bates. Morris & Bates was founded in 1979, and after a series of acquisitions and expansions, now boasts eight solicitors and has branch offices in Knighton and Llandrindod Wells. Tony Bates himself specialises in larger commercial transactions and company affairs.
Dr Debra Croft
Dr Debra Croft, heads Aberystwyth University's Widening Access projects. A Fellow of the Higher Education Academy, Debra's work with Widening Access involves fostering links with the local community, and working with local colleges and schools with the aim of removing barriers to Higher Education.
Victoria Kearney
Victoria Kearney has 25 years' worth of experience working in the construction, leisure and retail industries. She has managed new business start-ups and product launches in the UK and overseas. In the last few years, she has been actively working as a business role model, supporting entrepreneurial activities in schools, colleges and universities throughout the UK.
Gareth Lloyd Roberts
Gareth Lloyd Roberts is the Director of the Aberystwyth Arts Centre. Before taking the reins at the Arts Centre, Gareth worked as a producer at the Wales Millennium Centre in Cardiff and he's also worked as a director, script-writer and researcher for Welsh language television.
The winners of Aber Does Dragons' Den will be revealed at a special public screening of the programme at the School of Management and Business, Llanbadarn Centre on Friday 7th November at 7pm.
Aber Does Dragons' Den has been funded as part of the ESRC Festival of Social Science which runs from the 1st to the 8th of November.

AU40914